A band in need of relief...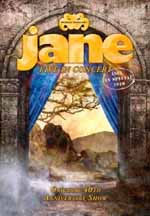 Jane Who, you ask? Why, a player and no mere contender in the German krautrock movement of the 1970s, albeit given to more conventionally structured symphonic material fuelled by runs of spacey psych guitar (heavy on the FX pedals) rather than the gabbling improv weird-outs of Amon Duul and the like.
With 25 albums to their name since forming in Hanover in 1970, the band has been a revolving door of line-ups and this latest incarnation - headed by keyboardist and sole original member, Werner Nadolny - celebrated 40 years of Jane-ness by recording this clan gathering at Hamburg's pokey Downtown Bluesclub concert.
The sound may inevitably be more keyboard-driven than of yore, but there's no denying that Jane can still make a song soar, though the spacial limitations of the Bluesclub's stage does thwart somewhat a natural inclination to wig out, when they do the band akin to passengers in a long-stalled lift in growing need of the men's room.
Equally Tappian is the procession of cowled monks carrying lit candelabra for Nadolny's piano, to a synthesised church choral, halted by a middle aged woman blocking the aisle, who's bafflement at the sight of them is cruelly amusing.
Truly, cloaks must have hung from the hooks in the dresssing room that night. The production values are a tad shaky but eighteen songs from the band's back catalogue make for a generous slice of Jane who acquit themselves with constrained enthusiasm, abetted later with by vampish singer Julia Weinhold, who crops up again for bonus material in the form of a TV special of undiscussed provenance, pushing the running time to a generous 160 minutes of Jane, who just need a bigger stage.
***
Review by Pete Feenstra