Just witnessed your best live gig?.. send us a review!
JAMES GRANT
Two View Gallery, Liverpool 29 October 2011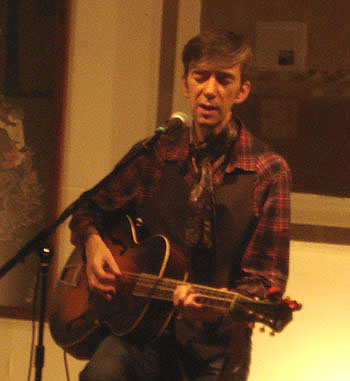 Halloween started early in Liverpool on a somewhat drizzly October night and the scantily clad female zombies contrasted with the rather more civil surroundings of the Two View Gallery within earshot of The Cavern.
Local promoter Andy Houghton had enticed James Grant south of the border and for me it was a chance to relive my previous encounter at a similarly intimate gathering in Staffordshire four years ago.
Hot footing it from a series of successful gigs with the reformed (and rejuvenated) Love And Money, James is on a bit of a roll at the moment and seemingly enjoying the contrast between his solo fare and the more energised band performances. It really is the best of both worlds.
And whilst audiences can lap up Love And Money when they tour again next year (on the back of a new album) they can also luxuriate in the frontman's solo output. He is arguably one of the finest singer songwriters to come out of the UK in the past 25 years. For those that say "James who?" shame on you.
Opening with 'My Thrawn Glory', we heard a fair smattering of classic L&M (including half of 'Dogs In The Traffic') mingled with superb songs like 'Jacqueline's Shoes' and 'My Father's Coat' from his solo albums. He could even indulge the hardcore fan with the likes of 'History' and 'State Of Art', the latter from pre-L& M band 'Friends Again'.
The often melancholy and serious nature of his songs was lightened by his between-song banter whilst the unamplified 'Looking For Angeline' demonstrated the superbly resonant qualities of his vocal delivery.
As expected he generously invited audience requests for the encore and this produced an admirable if truncated version of the more obscure 'Who In Their Right Mind' (from the 'Wishing Waters' EP), as he'd forgotten some of the words.
This again was a marvellous opportunity to witness a wonderful performer up close and personal. All credit to Andy for having the faith and to James Grant for spoiling us with the low-key gigs. But - if there's any justice - that could all change within the next twelve months.


Review by David Randall
---
Love And Money gig review (September 2011)
James Grant and Love And Money regularly feature in the singer-songwriter sequence (Mon-Fri 14:00 GMT) on Get Ready to ROCK! Radio