IAN MCFERON Summer Nights (2011)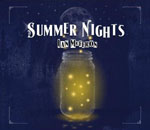 Ian McFeron is a singer song writer with a wide ranging musical palate that embraces country tinged roots rock and blues. It's a style that best fits into the catchall of Americana, but 'Summer Nights' offers much more than that as Ian is primarily an emotive song writer who has cut an album full of lyrical integrity and delicately poised playing. There's an edgy honesty about his songs that probably puts him on the outer fringes of his adopted Nashville, but it's also a style that makes him just that bit more interesting to the more adventurous music fan.
'Summer Nights' is a slow burner that smoulders with lyrical bite, inspired musical moments and a production that succinctly captures Ian's best efforts.
Guitarist and producer Doug Lancio brings a strong sonic quality, some tight arrangements and a vocal sensibility to bear on Ian's relationship driven songs. Lancio's extra pair of ears also makes the most of some lovely melodies, moving ballads and heartfelt lyrics.
'Summer Nights' is a gentle lyrical driven album with an undulating roots rock feel that evokes the title of the album. There's not so much a concept or thematic thread at play as 13 tracks that amplify Ian's strong love song narratives. The songs span the full spectrum of hope and regret before eventually settling on the emotional equilibrium to be found on the magnificent 'Windchime'
The album opens with the country tinged 'Shine a Little Light' and the delightful gentle shuffle duet of 'I'll Come Knockin' before exploring the big production rock ballad of 'Hard Since You've Been Gone'. The latter features an up in mix vocal on a sparsely arranged, early Lennon style intro that makes the most of a sharp dynamic and a guitar and violin break.
The title track has a subtle rhythm pattern and Ian's croaked vocal brings an edgy feel to his lyrics over a gently ascending layered sound punctuated by dramatic cymbal splashes and warm bv's.
The following 'You're Still On My Mind' is equally good and benefits from a pedal steel sounding accompaniment and an imposing production which gives it its dramatic feel. It's a song that emotionally engages the listener through a magical whirl of words, voice and music on a great band effort beautifully shaped by an intuitive production that stops just short of a full rock arrangement.
So far so good and if Ian's nasal voice might detract slightly from his song craft he's smart enough to his use high register timbre as an extension of his lyrics, while he focuses on harmony singing to emphasize melody.
He dredges up some real emotion on the love song 'Streetlight Serenade' - sung as a duet with the string playing Alisa Milner - and on the piano led ballad 'The Scarlet Dream', with its lingering melody, a Leon Russell style vocal and a stop-start band arrangement. Then there's also the poignant 'I Ain't Dead Yet' which is delivered with the only the slightest hint of irony.
'Come See Me (Before You Go)' is a Dylan influenced love song (including harp) on which his vocal is nicely offset by producer Lancio's eerie guitar sound. The duet features a mellow groove and colourful imagery and shows just what Ian is capable of. The Ballad of Florentino' is more bluesy with measured vocals and a big toned guitar solo while 'My Old Lovers' is a piano and fiddle laced lament which leads to the album highlight 'Windchime' on which Ian and Alisa vocalise beautifully on a perfectly produced song.
'Summer Nights' is real delight of an album, full of carefully crafted songs, weighty lyrics and a great 'live in the studio' band feel and is surely one of the most impressive independent releases of the year. Americana never sounded so good.
****
Review by Pete Feenstra
---
| | |
| --- | --- |
| | Print this page in printer-friendly format |
| | |