Just witnessed your best live gig?.. send us a review!
IAN ANDERSON, Beck Theatre, Hayes, Middlesex
9 September 2011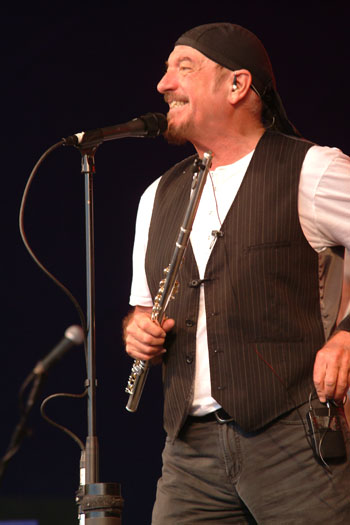 Jethro Tull mainman Ian Anderson is in the middle of a UK acoustic tour, stopping off tonight at the delightful Beck Theatre. Anderson is joined by John O'Hara on percussion/accordian/keyboards and guitarist Florian Opahlea, plus tonight on viola Natalie Holt, who a quick Google search reveals is a member of the all female string quartet Raven.

I am a big fan of Jethro Tull and have seen them live but not in an acoustic setting. Luckily much of Jethro Tull's music is easily adapted to an acoustic mode and full marks to Ian Anderson who reinvents some of the classics.
'Aqualung' for instance gets a long intro and sounds totally different minus the electric guitar, although it does make an appearance towards the end of the song. In fact it sounds more progressive rock than the original version in this extended format.

What makes the night is Ian Anderson's onstage patter, be it gentle digs at 70's prog rock or tales of his dog decapitating a baby hare in his garden (a cue for 'Hare In The Wine Cup').
It takes some skill to pull this off - Rick Wakeman is another obvious musician happy to speak as well as play - and really adds to the evening's musical entertainment. The seated theatre setting lends itself nicely to this style of intimate gig.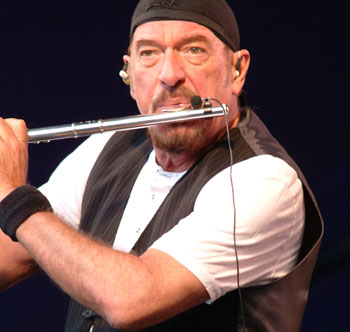 His band get their time in the limelight as well including viola player Natalie Holt who puts in an angelic vocal performance on her own composition 'Nightingale'. I also enjoyed Florian Opahela's electric guitar version of Bach's 'Toccata' - shows that JS Bach was the earliest rock 'n' roller!

Pleased to hear 'Budapest' in the set and 'Just Trying To Be' (one of the evening's many plugs for the upcoming 'Aqualung' re-issue). One of a handful of songs given a serious intro by Ian Anderson due to the lyrics and how some of the songs written over forty years ago still ring true today.
It is not all dark though, as there is a bit of fun to be had as well in the reading of the 'Hare Who Lost His Spectacles', not something you'd get in a normal Jethro Tull set.

A highly enjoyable night's music and entertainment, showing another side to Jethro Tull's music plus adding in some varied solo songs and those highlighting the very skilled musicians helping him out on this tour. Even if you're a casual fan, Ian Anderson in acoustic mode is well worth seeing.


Setlist (running order maybe out towards the end of the set!) Boris Dancing/ Just Trying to Be/ Slipstream/ Up to Me/ Wondering Again/ Set Aside/ Nightingale (featuring Natalie Holt on vocals)/ Overture/ Florian's flamenco solo slot/ Bach medley including Bouree/ Up the Pool/ Hare In The Wine Cup/ Poet & the Painter/ Adrift and Dumbfounded/ Hare Who Lost His Spectacles/ Toccata/ Change of Horses/ Budapest/ Aqualung/ Encore: Locomotive Breath
Review by Jason Ritchie
Photos by Noel Buckley
---
Ian Anderson Podcast (August 2011)
---