HUEY LEWIS AND THE NEWS Soulsville Proper PRPCD074 (2011)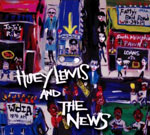 The idea of this soul album apparently came from Huey's long time manager Bob Brown. And as Huey explains, 'each band member chose a handful of tunes and we cut the record in Memphis at the historic Ardent Studios, more-or-less the same way the originals were done, that is, 10 pieces, live'.
Throw into the mix Jim Gaines the Memphis based producer who oversaw the band's original rise to fame just over 30 years ago and I suppose you have the basis of a thematic project. Not so much a Stax cover album as such, but more of a general soul album evoking the feel, passion and quality vocal performance of the era. Step right up Huey Lewis American power popster with a musical history full of blues r&b and well, soul!
There are two ways of looking at this album. On the one hand when you put together a band of the calibre of Huey Lewis and the News complete with a full horn section and ask them to make the best of 14 soul standards, you know that the end result will most likely be crisp, cool, professional and hopefully passionate. And while the latter quality is possibly edged out a little by a meticulous production, the band duly deliver on the first three counts as Huey makes a good fist of bringing to life a slice of America's's soul heritage.
The other way of looking at this project is that of a great band with a diminishing hit ratio that is struggling to find the kind of meaningful context they enjoyed long ago in the 80's.
That's is only partly true as apart from his own musical history, The News seems at home with the well crafted arrangements and their leader's intuitive phrasing.
No, what is really missing here is just a little bit of spark. And it's not even down to the usual lack of imagination on projects such as this, after all how many people were aware of Otis Redding's ballad 'Just One More Day' before it popped up on this album? For the most part Huey gets inside the songs and grinds out the kind of performance that soul demands. But in many ways the overall performance overcompensates in trying to be too earnest.
The result is that everything is in place but the overbearing bv's and ubiquitous horns are just a tad too busy and as a result the focus sometimes imperceptibly slips away from Huey's own performance.
But these moments apart, the band bring their thirty year collective experience to bear on 14 tracks bereft of fixes and overdubs of which Solomon Burke's 'Got To Get You Off My Mind is given a full harmony singing and horn treatment while Cry To Me' has a bossa piano feel and doowop bv's. Eddie Floyd's 'Never Found A Girl' is a gloriously arranged song with on this occasion excellent bv's, the best horns on the album and even deftly plucked string with no suggestion of a sugary Motown overkill.
'Soulsville' the Isaac Hayes title track ballad is arguably the highlight with Huey delivering an animated performance with confident phrasing over a stirring soul arrangement, while on Rufus Thomas's 'Little Sally Walker' he growls in between girly bv's to sound like Taj Mahal of all people. Johnny Taylor's poppy 'Just The One (I've Been Looking For)' is given a radio friendly, sax led treatment but its not until the Hayes/Porter/Booker T penned William Bell song 'Never Like This Before' that the band throw off the chattels and finally burn
The set wraps up with The Mar Keys instrumental 'Grab This Thing', which works well enough but seems like a wasted opportunity for Huey to contribute more. But I guess that's just another question surrounding an enjoyable but at times lack lustre affair.
****
Review by Pete Feenstra
---
| | |
| --- | --- |
| | Print this page in printer-friendly format |
| | |