HOWLING BELLS The Loudest Engine Cooking Vinyl(2011)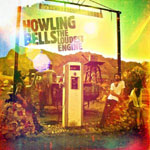 A difficult one to pigeon hole, this Australian formed, London based quartet comprising singer Juanita Stein, her brother Joel (lead guitar), drummer Glenn Moule and bassist Brendan Picchio.
The writing for Howling Bells, their bandís third album, was started while they were on the road supporting Coldplay on the third leg of their Viva La Vida North American tour. And they brought in bassist Mark Stoermer for his first production job having found common ground when supporting The Killers a few years back.
Described by Juanita as a psychedelic record, and one that is more folk and rock than their previous two releases the band made a decision to not record anything that they couldn't perform live. The result is a female fronted Americana version of The Coral, or a rockier The Concretes - an indie flavoured meandering melee. Thereís even some Kate Bush like vocals thrown in for good measure.
But ultimately The Loudest Engine does come across as indie album, and while thereís plenty of melody and some lovely vocal and guitar work, at times it has a tendency to swirl around without any obvious direction. And apart from the more commercially accessible Charlatan, Donít Run and The Faith, the absence of any clear candidates in terms of hit single / radio play material might just be its downfall. But the potentialís there for all to hear.
***
Review by Pete Whalley
---