Just witnessed your best live gig?.. send us a review!
HOUSTON, Serpentine, Vega
Borderline, London 4 March 2011
Photos by Noel Buckley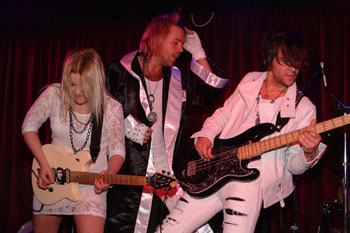 Once seen as a genre stuck in its halcyon days of the early eighties, one of the pleasures of the recent revival of interest in melodic rock is that new young bands are getting some fresh exposure.
None more so than Swedes Houston, whose album was deservedly raved about by Classic Rock. Their UK showcase attracted a near full house to the Borderline and, better still, two British bands supported them. It was interesting though that the audience was primarily my fellow forty-something diehards of the genre rather than any new generation of fans.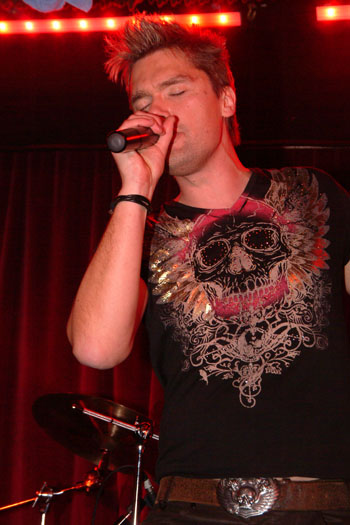 Opening proceedings were VEGA, fronted by former Kick and Eden singer Nick Workman and twin brothers Tom and James Martin, rising young melodic rock songwriters.
Despite giving off the air of Simon Le Bon circa 1985, Nick is not only a strong singer but an assured, self-confident frontman who had no difficulty stirring the crowd to give the opening band their full support.
It helps that the likes of Staring at the Sun and One of a Kind have massive, accessible choruses, while the 'He knows that she knows' refrain of What it Takes was buzzing around my head for some time afterwards.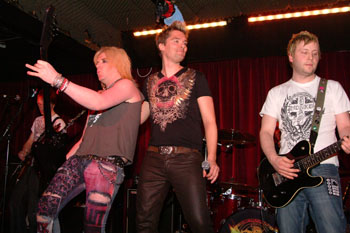 Hearts of Glass with its 'hey hey hey' chorus got people going and although S.O.S. veered too much into U2 territory, set closer Kiss of Life has the hooks that demand that fists be punched in the air.
Their stage craft may need some work with the fine lead guitarist hidden away near the back of the stage and a bassist looking like a glam metal reject who had stumbled into the wrong band by mistake. However their songs, while still melodic, have a crisp modern pop-rock edge to them and allied to a clean cut, non-metal image, they stand a chance of breaking beyond the genre's limited fan base.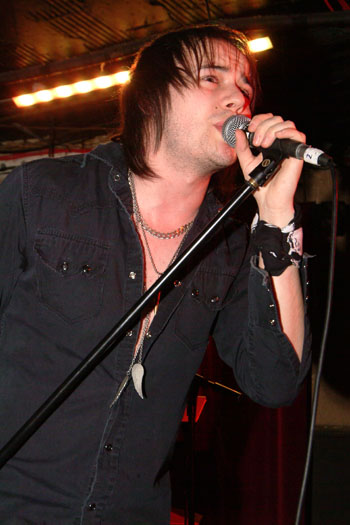 Next up were SERPENTINE, playing their first ever live show over a year after their debut album appeared. I was curious how they would fare without ex-Shy singer Tony Mills who sung on the debut, but new young vocalist Matt Black was a star, showing great enthusiasm and his voice comfortable in a higher register.
Songs like opener A Touch of Heaven and Let Love Rain Down were classic AOR with a smooth, lush sound pitched somewhere between Journey and Excess All Areas-era Shy.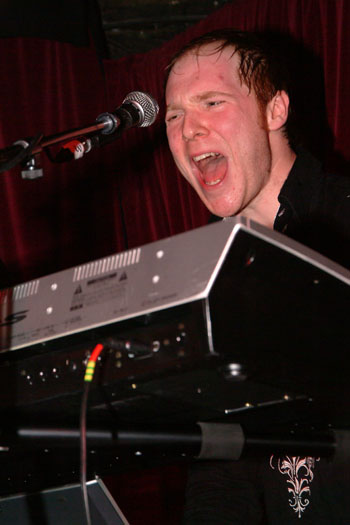 They also played a couple of new numbers, Philadelphia and Cry, before closing with the featured cut from the first album, Whatever Heartache, with a great keyboard solo from the band's mainman Gareth Noon.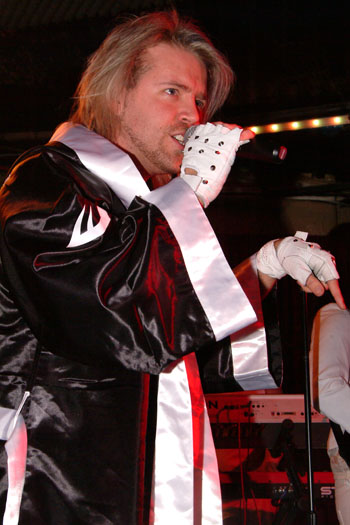 At this stage, the gig was just getting better and better and anticipation was high for HOUSTON. However when they hit the stage I was instantly put off by a cheesy image which, if a parody, was unfunny and did their credibility no favours.
They were all dressed in white, down to sundry headbands and white gloves, various wits in the crowd drawing comparisons with Olivia Newton-John's Physical video, John McEnroe, and the runners in the 118 118 advert.
Worse still, singer Hank Erix (who looked a little like the young Mike Tramp) took his bow in a boxers gown with his name emblazoned on the back.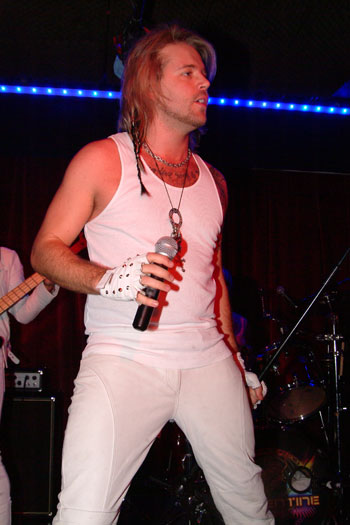 One of the criticisms of many melodic rock albums is that they are purely studio projects that never result in live roadwork. However in this case, the studio product - recorded as a duo with the cream of Scandinavian players - was musically far superior to the live band.
A blonde lead guitarist and brunette rhythm guitarist (leading to cheap Abba comparisons) were easy on the eye but rather rudimentary players, as were the rest of the band who seemed to lack the requisite tightness. In addition, live Hank's vocals did not appear as sharp and crystal clear as on the record.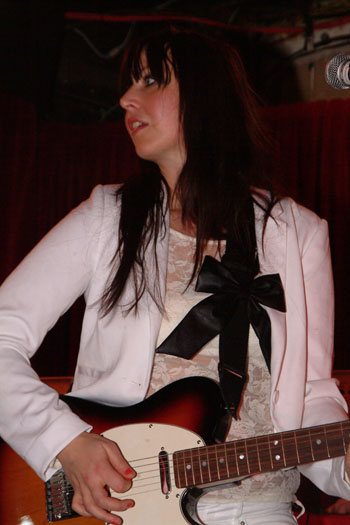 Nevertheless it would be hard to completely mess up songs of that quality, and Truth Slips, with brunette Helena Alsterhed adding her vocals, and the fluff-tastic Hold On had people singing along and punching the air.
UK bonus track Under Your Skin was one of the better ones, and the silken melodies of Pride with a fine keyboard solo ended the set.
As a bonus for those of us in the know, they encored with an authentic cover of Your Love, the big US hit for East End expatriates The Outfield.
From my viewpoint, in the international AOR battle of the bands it was a surprise result - Brits 2 Scandis 0. Houston for me will need to raise their game by the time they return for a full tour in May.

Review by Andy Nathan
Photos by Noel Buckley
Interview by Mark Taylor
---