Just witnessed your best live gig?.. send us a review!
HEAVY METAL KIDS, 100 Club, London 3 March 2011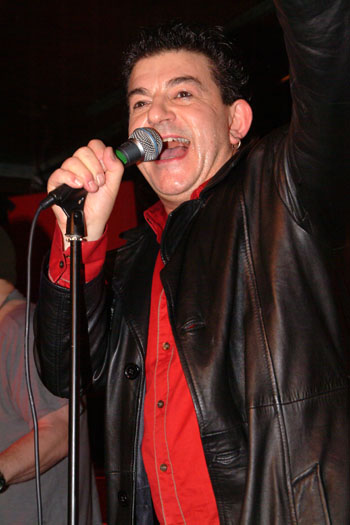 The Heavy Metal Kids are anything but kids these days, and they're not heavy metal either. A bit (pre) punk, a bit pub rock, a bit glam, they never had a hit record during their original existence in the mid-70's, but left behind three storming rock'n'roll albums between 1974 and 1977. Those three albums, 'Heavy Metal Kids', 'Anvil Chorus' and 'Kitsch' have stood the test of time extremely well and are rightly revered to this day.
Today's Heavy Metal Kids features three original members, Cosmo, Keith Boyce and Ron Thomas, along with additional guitarist Justin McConville. The vocal duties are handled by new vocalist John Altman, the actor who played Nasty Nick in Eastenders and a mate of the late, legendary original vocalist Gary Holton.
There's a good turnout at the 100 Club for tonight's show, and a few reasonably famous faces dotted around the place, probably due to Altman's acting connections. Rula Lenska, Vicki Michelle, a few ex-Eastenders, and even British porn supremo Ben Dover are spotted milling around amongst the old rockers, punks and boot boys.
The set features a fair chunk of material from those three original classic albums, as well as a fair few from 2003's 'Hit The Right Button' when Danny Peyronel was lead vocalist. From the opening track 'Blow It All Away', the band sound tight and the guitars are packing a real punch.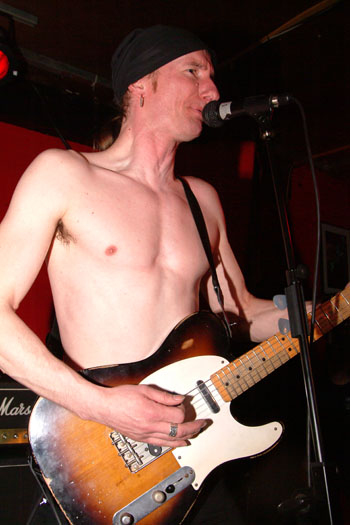 Early classics like 'Hanging On', 'Chelsea Kids' and 'She's No Angel' mix pretty seamlessly with newer tracks like 'A Hundred Skeletons' and 'Whiskey'. Some sort of power failure during 'Blue Eyed Boy' brings a temporary halt to the proceedings, but doesn't affect the momentum of the show.
In a strange way, it adds to the chaotic spirit of the gig. 'Houseparty' and 'Squaliday Inn' get the audience singing along with Altman, and new single 'Uncontrollable', sounding very much in the spirit of the original material, shows the band haven't lost their songwriting touch. 'Delirious', with tonight's compere Max Splodge guesting on vocals, brings the set to a storming close.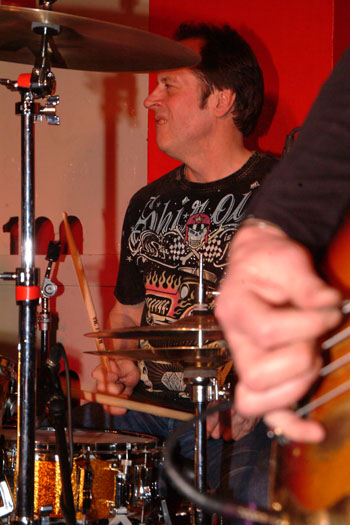 Following in Gary Holton's footsteps as frontman of this band isn't an easy task. Holton was a charismatic, larger than life figure who, contrary to what some may say, had a great voice. Altman may be an experienced actor, but I'm not too sure how much experience he has had fronting a rock'n'roll band.
This may be one of the toughest roles he's taken on. He doesn't have a singing voice to match Holton's, but what he lacks in that department he more than makes up for in effort and enthusiasm.
At the band's first London gig a few months back at the Garage, he came across a bit awkward and wooden to me, but tonight shows a marked improvement and you get the impression that the more shows he gets under his belt the more he will grow into the role.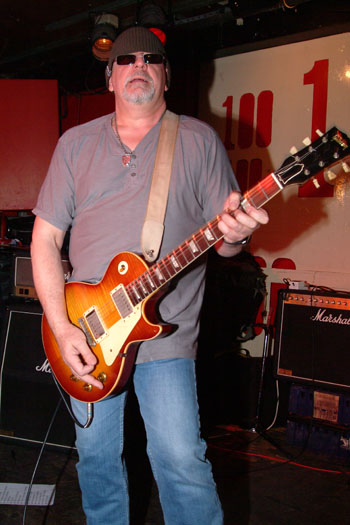 He's a really endearing character and you find yourself willing him on as the show progresses. He's ably assisted in the vocal department by Justin McConville who adds some quality backing vocals throughout the set.
Cosmo's guitar work is classy and impressive from start to finish and Keith Boyce makes the drumming look effortless. What strikes you about the material on offer tonight is the quality of the songs and riffs, and you can certainly tell the Heavy Metal Kids had quite a profound influence of a fair few bands that came after them, not least Mike Monroe and Hanoi Rocks who covered 'Delerious' not too long ago.
This is probably the best incarnation of the band since their 70's heyday and a new album from this lineup would definitely create further interest. The Kids are united.


Review by Jim Rowland
Photos by Noel Buckley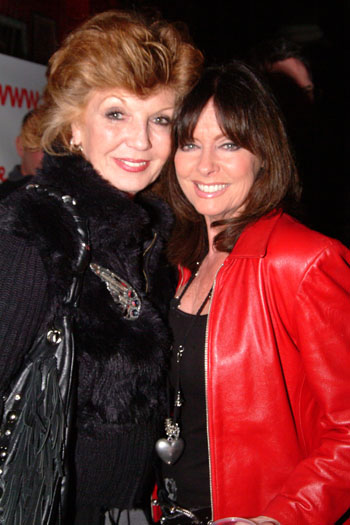 ---