HAZEY JANES The Winter That Was Armellodie ARM26CD (2011)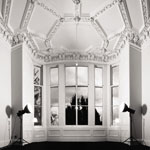 'The Winter That Was' by Scotland's The Hazey Janes is a harmony driven indie pop album that rarely contents itself with the obvious when there are so many other interesting possibilities to explore. And while much is likely to be made of their close knit harmonies and blustery power pop, this is a band that would think nothing of riding rough shod over various genres in their attempt to capture a moment of spark.
For the most part 'The Winter That Was' does engage you with its emotive swell. And much like the enduring Diesel Park West two decades before, there's real passion, a big production and great harmonies, though while you know there's lots going on it's sometimes not immediately apparent what it is. The choppy guitar and synth driven single 'Carmelite 'does enough to make you want to hear it all over again and also offers a lever to the rest of a multi layered album.
The chiming guitars and lush harmonies of 'Girls In The Night' are carried by the kind of restless, staccato choppy chords favoured by the fledgling Move back in the 60's, but the lush harmony lines, interlocked call and response singing and jangling guitars give the song a contemporary grandeur that would surely be familiar to Manic Street Preacher fans.
In fact what's missing is a lyric sheet if only to offer you a key to the integral mix of words and music that makes 'The Winter That Was' such an interesting ride. 'Aspen' for example, apparently references Hunter S. Thompson but you have to work hard to make the connection. The track opens with one of those weighty Springsteen style verse intro's before Andrew Mitchell's ascending lead vocal and a repeated guitar motif takes it elsewhere.
Much like the later 'Southern Lawns', there's a whiff of Arcade Fire's passion, angst and a sense of the epic. But The Hazey Janes are anything but predictable. They broaden their palette on 'You Only Stand To Lose If I Stay' which features a startling vocal from Andrew and they launch into a big production wall of sound on 'Wake To Guide Love'. Then they suddenly embrace a pedal steel led country feel on 'The Darkness Ends', a song which has an insistent jangling rhythmic quality, another fine lead vocal and some choral style backing vocals as part of a lush, layered sound with a poppy feel.
'Paperhearts' is a slow building ballad with a string arrangement and a lovely top line vocal from Alice Marra as it builds toward an epic finish. The vocals are up lifting and the layered sound would surely make Phil Spector smile. But like much of the album there's so much going on that it takes a while for the salient song components to kick in. But when they do eventually reveal themselves as here and on the catchy synth line of 'Wake To Guide Love' you get drawn in by a band whose mix of enduring melodies, deep songs, grand hooks and musical motifs weave a lavish musical landscape.
And just when you think you have their measure they eschew the thin dividing line between booming choruses and harmony led pop to finish with the completely different drone like 'Everything Starts Again'. Having spent most of the album exploring layered sounds and jerky rhythms, they finish on the slow changes of the relentless 'Everything Starts Again'.
In some respects the opening 'Cascade River Gardens' and the closing track represent an interchangeable top and tailing of the album, save for the fact that nowadays bands seem to save their best for last. Certainly the relentless throbbing guitar/synth, pounding drums and impressive big chorus resolution offers a succinct ending to a complex album that always keeps you guessing and in its best moments captivates you.
****
Review by Pete Feenstra
---
| | |
| --- | --- |
| | Print this page in printer-friendly format |
| | |