HAWKWIND Distant Horizons Esoteric (2011)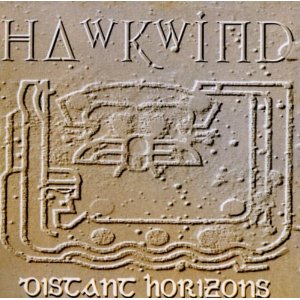 Hawkwind fans are generally divided between the thoughtful electroscapes and the driving rhythms that most of us know them for. 'Distant Horizons' straddles both camps.
Artistically, this album is pivotal to the whole of the back catalogue. You get two chorders like 'Phetamine Street' and punk overtones of 'Reptoid Vision' balanced the more philosophical songs like 'Alchemy' and 'Clouded Vision.'
This line up of Dave Brock, Ron Tree, Jerry Richards and Richard Chadwick is interesting in itself as Richards and Tree are embarking on a Hawklords European tour in Autumn, while the other two are in the current Hawkwind line up that toured last December.
In this sense, the session is a mixed bag of tricks and probably one of the reasons you might not have heard of it. Devoid of an overriding identity, it's experimental approach is laudable yet disparate.
Sometimes the synthesisers are naive, almost as if someone has turned up with a sequencer in their rucksack and nobody quite knew how to use it without a Dik Mik or a Tim Blake knocking around. And yet on 'Clouded Vision' the crescendo and poetry from Brock makes up for the gallic shrug that is a three note sequence.
The most accomplished of the experimental tracks is the ethereal 'Love in Space' which must be given where it's due. Electronica bands like Orbital, Chemical Brothers and The Orb often quote Floyd as an influence but I'd argue every time that Hawkwind were the Overlords of ambient trance.
'Wheels' is in familiar territory with that almost machine like riffing interspersed with bleeps and oscillations that broaden the experience. Ron Tree wraps it up with a spoken lyric in the tradition of the Moorcock era.
Whilst I adore this album, let's not get carried away and claim that 'Distant Horizons' it's a 'lost' classic like 'Levitation' or 'Space Ritual,' but nonetheless it is a very worthy re-release and a strong reminder that Hawkwind are a national institution who deserve our gratitude for their incredible output that we can take and leave for eons but still engorge ourselves in when we return.
This prompts a quick comparison between Hawkwind and Floyd who were almost synonymous in the fame stakes around 1971. Yet while Floyd were racing cars at Brands Hatch, Hawkwind continued driving their second hand ones to distant horizons like these.
Enter the time continuum like you never left.
****
Review by Keith Thompson
Keith Thompson presents Rockwaves on Get Ready to ROCK! Radio, Sunday 21:00 GMT+1
---
| | |
| --- | --- |
| | Print this page in printer-friendly format |
| | Tell a friend about this page |