GREGORY ALAN ISAKOV This Empty Northern Hemisphere (2011)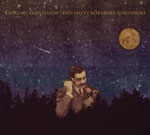 This Empty Northern Hemisphere is the fourth album from a singer songwriter who was born In South Africa, brought up in Philadelphia, and has since moved to Colorado. Brought up in a Jewish family, but having since studied Buddhism and American Christianity, he's an artist whose music is, for want of a better word, 'spiritual'.
Pretty much a 'one man band' - he plays guitar, banjo, harmonica, piano, Rhodes, and occasional drums, he's supported here by his band, the Freight: Jen Gilleran (drums), Jeb Bows (violin) and Phil Parker (cello). Isakov plays guitars, banjo, piano and harmonica, with Brandi Carlile's contributing vocals on five tracks.
It's an acoustic based album that's causing gentle ripples on the other side of the pond, particularly as a result of Isakov regularly opening for Brandi Carlile. Essentially, it's an introspective, minimalist and downbeat folk based set that, while unlikely to set pulses racing, is something of a 'slow burner'. Although to Greg, it's more 'rock 'n' roll' than anything he's done before.
Beautifully played and recorded, This Empty Northern Hemisphere is unlikely to put much of a dent in the Billboard 100, although with some haunting minimalist playing, and vocal style not a zillion miles away from that on some of Paul Simon's early solo work it's easy to see why Isakov's work is finding favour on the indie folk circuit.
This Empty Northern Hemisphere is an album that's likely to improve with repeated listens and one best listened to on a decent stereo in a quieter moment.
It would sit well next the likes of William Fitzsimmons's Gold In The Shadow which sees a man who, having hit rock bottom, is coming up for air and liking the taste.
***
Review by Pete Whalley
---
| | |
| --- | --- |
| | Print this page in printer-friendly format |
| | |