GREG LAKE Reissues Rock Candy (2010)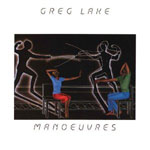 1981, and post Emerson Lake & Palmer (one of the biggest bands of the 70s who had recently split), what was bassist / vocalist Greg Lake to do?
Signing to Chrysalis, his debut album Greg Lake sees Lake on a bit of a journey, not quite sure of what to do or what was expected of him. In the sleevenotes he admits to a lack of direction, but I think he is being rather hard on himself when he says he should never have made the album.
Direction (or any subsequent lack of) aside, there are some excellent moments here, often showcasing some blistering hard rock.
The album sees Lake revert back to guitar (he was the guitarist in The Gods, only switching to bass on joining King Crimson), the band largely centred around bassist Tritram Nargetts, drummer Ted McKenna (SAHB , MSG) and pianist Tommy Eyre. Then there's the small matter of lead guitarist Gary Moore, who was signed to Jet at the time. Early sessions also produced tracks with Toto's Steve Lukather and Jeff Porcaro.
Opener 'Nuclear Attack' is a Moore track he'd recorded a few months before, and shows a wonderful blend of Lake and Moore. The guitars are crunchy, rough and blistering, complemented perfectly by the smooth yet solid vocals and keyboards. 'Love You Too Much' is an uptemp rocker with smooth guitar and an excellent keyboard intro. A rarity here, in that it was co-written with Bob Dylan, and it's one of the best songs Dylan's ever put his name to. 'It Hurts' starts more whimsically and, with an excellent guitar solo, the more commercial AOR that Asia were producing at the time.
'Retribution Drive' picks things up a little, but it is from then on that the album is more of a journey. Moore's guitar is some of the best he's ever played, McKenner, Eyre and Lake too all produce some wonderful moments, but there is a lack of cohesion and direction to the project. If the album had followed the opening 2 or 3 tracks, you'd have a 5 Star album. ****
By 1983 and Greg Lake's second solo album Manoeuvres. By now the band were cementing, there was not the variation of session players with every track like the debut, and the feeling is more relaxed and more natural. The feel is a little more mellow than the debut, but it is more consistent.
There are certainly comparisons with Asia, a band Lake would (briefly) join before reforming ELP. Despite label pressure to come up with a hit single, there are some wonderful tracks here. 'I Don't Want To Lose Your Love Tonight' stands out, as does 'Too Young To Love'. The guitar work is excellent throughout, McKenna and Eyre outstanding too.
Moore and Lake had something together here, it's such a shame they went their separate ways. ****
Chrysalis clearly didn't know what to expect musically, yet they expected ELP-like sales figures. Consequently they didn't know how to handle Lake or these 2 albums. Both are presented perfectly, with new interviews in the liner notes.
Review by Joe Geesin
---
| | |
| --- | --- |
| | Print this page in printer-friendly format |
| | Tell a friend about this page |