GORILLAZ - The Fall EMI (2011)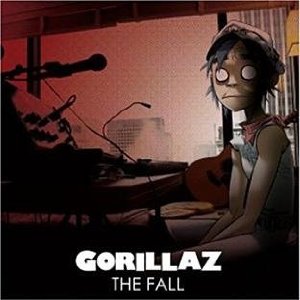 No promotion, no build-up, no interviews. So where exactly did The Fall come from? The fourth album just appeared out of thin air and provided the ultimate test for Gorillaz; can they still make it big from an album that received barely any anticipation hype?
The follow up to Plastic Beach was first released exclusively to fan club only members back in December 2010 yet still, nobody outside of that fan club seemed to know much about it. It was then revealed to the remainder of the world on the 18th of April and that's when it REALLY began to sink in for fans all over the place. An album recorded almost entirely on an iPad over the span of one North American tour was surely worth a listen for better or worse!
The album screams 'Hey! Look at me! I can make unplanned music on an iPad!' as it blends together the most unlikely of musical genres, ranging from the jagged electronic beats of 'Phoner to Arizona' to lulling vocal montages on 'Amarillo' this is truly an experimental album for Gorillaz.
Admittedly, there are times when the fact that this was recorded on an iPad in a hotel room really shows through for the worst such as when the abstract tones of 'Detroit' pierce your mind but then again, there are others that have turned out for the better such as 'Revolving Doors' which begin to bring fans back to familiar ground with Albarn's distinct voice and a sound closer to that of the usual Gorillaz compositions.
So this album might be a little higgledy-piggledy, hit and miss, topsy-turvy or whatever you want to call it but you can't deny there are some absolutely stunning parts to it such as the transition from smooth, tranquil guitar melodies to fractured distortion in 'HillBilly Man'. However, then there's the likes of 'Seattle Yodel' to contrast this masterpiece and provide a comical finale to the album that makes you giggle like a three year old too much for you to actually appreciate anything musical about it or take it seriously in the slightest. There is no comparison between this and the previous releases of Gorillaz, it's just not quite on the same level.
***
Review by Abigail Suter
---
| | |
| --- | --- |
| | Print this page in printer-friendly format |
| | |