GILES ROBSON & THE DIRTY ACES Crooked Heart Of Mine Movinmusic MMR003 (2011)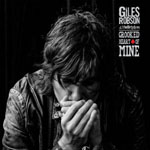 Giles Robson is a talented blues harp player who has grabbed some deserved critical praise for both his lyrical playing and a real dirt blues feel with an expressive tone. The road tested band's profile was also further boosted when Radio 2's Chris Evans played 'The Mighty Incinerator', the opening track from their album. Aside from the unlikely source of support, this radio play made The Dirty Aces the first blues band in living memory to break on to mainstream radio. Evans simply said, 'This is so Good'.
In fact it is far better than that, as the rhythm section swings with alacrity and Giles's onomatopoeic lyrics amplify the train time rhythms of the track. Needless to say he blows his harp with passion, feel and a dirt sounding tone to imbue the song with an airy dynamism.
Ironically the splendid opening proves to be something of a millstone for the band as they struggle to emulate its swagger on the rest of pleasant but a workmanlike album that cries out for more headroom and a tougher vocal style. And while there are a few pleasant stylistic diversions most notably on the Gyspy Jazz of 'Devil Led Evil' - on which Giles harp playing evokes the late William Clarke - the band sounds a trifle studio bound if not claustrophobic
You need look no further than the spirited but limited spoken word vocals on 'Some Kinda King' to realise that it is Giles's workaday voice that holds the band back. And that's a shame as the rhythm section of Ian Jennings on bass and drummer Mike Hellier conjure up a succession of interesting rhythmic patterns to bring a cool dynamic in play, while guitarist Filip Kozlowski is that rare beast, an understated guitarist happy to play proficient fills and restrained solos when required to do so.
Both 'Stick To The Promise' and 'Magic Tricks' are boogie outings that offer Giles the space and tempo to deliver his vocals with a little more confidence, while the funky rhythm of 'Swindler For You' offers a neat contrast with Giles's flighty harp solos.
The evocative harp instrumental 'Solidor' is far better and suggests that whatever his vocal shortcomings Giles can conjure up a catchy melody and a warm tone and let his harp playing do his talking for him. This track has the same potential commercial possibilities of 'Groovin with Mr Blow' all those years ago and at the very least offers the band a recognisable signature sound.
And having weaved their way through a mix of swing, jump, blues, boogie, funk, and Gypsy Jazz the band finally rocks out on the derivative riff driven 'Cooling Board'. The song owes much to the John Kongos hit 'He's Gonna Step On You Again' and is nicely juxtaposed with the 'harp sprech' instrumental 'Hometown'. The latter is another example of the way Giles' restless creativity successfully reaches for new ways to showcase his superb harp playing.
The band nicely wraps things off with the harp/guitar driven 'Ain't Dead Yet'. It's the kind of song that will surely bring any number of blues crowds to their feet.
'Crooked Heart Of Mine' is a producer and a decent vocalist short of fulfilling its real potential, but Giles Robson and Dirty Aces are a hard working band with skilful players whose best recorded work is surely yet to come.
***
Review by Pete Feenstra
---
| | |
| --- | --- |
| | Print this page in printer-friendly format |
| | |