GILBERT O'SULLIVAN Gilbertville Hypertension (2011)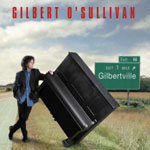 Gilbert O'Sullivan has been enjoying hit singles and albums since the 70's onwards and, along with Leo Sayer, vied for the best Afro style hair! Fast foward to 2011 and he's releasing his new album on a label that co-incidently also features Leo Sayer, along with Chris de Burgh and Nazareth amongst others.
Now I liked a few of his 70's hits but had never listened to one of his albums in full and judging by this new release I should do ASAP. It is a mix of fun songs like 'The Allergy Song' (you can see where Divine Comedy maybe borrowed a few ideas from) and 'Where Would We Be (Without Tea)'.
Then there are serious topics like terrorism on 'All They Wanted To Say', a very moving song and 'Talking Of Murder'. The latter is a big production number, one you could imagine coming from a West End musical although the subject matter pulls no punches. Very enjoyable use of harmony vocals on this one.
'Could Have Made It With You' sneaks in a bit of hard rock - I kid you not - although the Harry Hill poetry interlude is very bizarre. Special mention to the bonus track 'School Meals', again a great piece of musical fun.
An unexpected delight and deserves to put him back on the map outside of his loyal fanbase.
****
Review by Jason Ritchie
---
| | |
| --- | --- |
| | Print this page in printer-friendly format |
| | Tell a friend about this page |