GERRY JABLONSKI AND THE ELECTRIC BAND Life at Captain Tom's Fat Hippy Records FH56 GJCD2 (2011)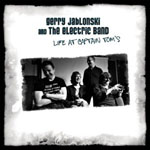 Gerry Jablonski & the Electric band is one of Scotland's leading rock blues bands, no mean feet in a music scene that has produced the likes of Blues 'n' Trouble, Big George & The Business and the Nimmo Brothers. And 'Life At Captain Tom's' is the kind of high energy effort that perfectly showcases a road tested band who still have the fire in their bellies to deliver gutsy rock blues.
Guitarist and vocals Gerry Jablonski and Polish harp player Narojczyk are the perfect front line duo to give the band's nicely lived in feel that extra bit of depth. Together with bassist Grigor Leslie and drummer Dave Innes they power their way through an album that fits the rock/blues genre but is never restrained by it. It's probably significant that Gerry's first band could never really be pinned down and while this album is full of passion and propulsive drive there's still a tension between the song and harmony input and riffs and solos. And when the band do stretch out most of most of the solos come from the bustling harp playing Pete while Gerry concentrates on vocals and rhythm guitar.
'Life At Captain Tom's' actually opens with the riff driven edgy rock blues of 'Higher They Climb' and impresses with its cleverly arranged bv's, before slipping into the boogie rock of 'Sherry Dee' and then into an unexpected tribute to the late Paul Kossoff. 'Koss' is a funky, harmony laden song which references a succession of Free song titles. Pete Narojczyk takes the first solo on a very strong melody, but curiously the potential climactic closing guitar solo is a curiously mixed back affair lacking the necessary swagger, confidence, fire and big tone of a Kossoff solo. It's a significant moment as it becomes increasingly clear that Gerry does his talking through his lyrics and song arrangements rather than through big guitar solos, though he does add neat flourishes without ever dominating a song. One of the closest occasions he get to cutting lose is on the autobiographical funky groove of 'Merchants of Soul' which recalls the power of rock, blues and soul giants on the young impressionable mind.
The self explanatory 'Hard To Make A Living' is another harp heavy, gritty blues with a deep groove pregnant with burning harp and incisive guitar riffs and a mighty vocal from Gerry. The band builds up a mighty Zeppelin style wall of sound on 'High On You', before a tension breaking drop down, and some telling sustain and repeated note flurries from Gerry over Beatle style harmonies, while on 'Hot' The Electric Band sparks into life on the back of a Stonesy lick and a wailing harp.
And as if paying close attention to flow of the record, there's real restraint on 'Slow Down' on which Pete teases out his most delicate tone and Gerry slides in and out of the track. The band imperceptibly shifts up a gear on 'Virgil Cane', a dramatic rock ballad that could easily become their anthem and corner stone of their live set.
Gerry adds an Alex Harvey style snarl and a choppy rhythm on 'When The Fire Is Gone' and there's a belated return to riff driven rock on 'Skinny Blue Eyed Boy'.
The opening guitar motif on the gutsy rocker 'Prog' sounds like Carl Verheyen, before the band explores the outer fringes of prog on a song that encapsulates the variety of the whole album. Gerry Jablonski and the Electric Band almost make a virtue of being stylistically left field but as this cd shows when they hit a groove they are as unstoppable as an express train and it because of those moments that they deserve their 4 stars.
****
Review by Pete Feenstra
---
| | |
| --- | --- |
| | Print this page in printer-friendly format |
| | |