FREQUENCY DRIFT Ghosts Prog Rock (2011)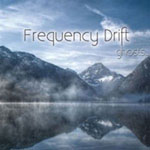 It is often said that owners often end up looking like their dogs. Could it also be the case that bands' music ends up sounding like their name? I only ask because this album frequently had me drifting off - not to sleep, far from it, but to quiet, undiscovered places. This is achieved with a wide, cinematic approach to the music that enables you to paint your own dreamscapes.
Frequency Drift is a six piece progressive band from Germany and this rather fine album is their third release.
Mostly piano and keyboard led but with some exceptional guitar work too, what sets this apart from others of the genre is the judicious use of flute and violin, two instruments rarely used these days but which often carry the music to places not expected.
Add to this Antje Auer, a genuinely expressive female vocalist from the Sonja Kristina/Julianne Regan/Imogen Heap school of classic female singers and you have a perfect foundation for something a bit special.
The violin and flute mentioned above are a good touchstone here as both Curved Air and Focus are solid reference points on this outstanding eight track magnum opus.
Opener 'Crows' sets the pastoral scene with a beautiful piano figure set against squawking crows, a distant thunderstorm and a babbling stream. This leads into the title track, a twelve minute epic which pretty much encapsulates the tone of the entire album with beautiful piano and vocal work interspersed with almost Camel-like guitar, leading to anthemic, almost heavy metal fretwork interspersed with Thijs Van Leer flute. Then in comes that violin to put the cherry on top and round off as wonderful a slice of pastoral progressive/folk/rock as you could wish to hear.
And the quality never lets up. Right through to the closer 'Come' the emphasis is squarely on wide-screen yet exquisitely intricate passages of peerless, imaginative music that takes the listener to that Arcadian dream world just over the horizon.
Lie down in a dark room with the headphones on, light a candle and let Ghosts carry you wherever you want to go.
Marvellous.
****
Review by Alan Jones
Alan sequences "The Eclectic Mix" on the third Sunday of every month on Get Ready to ROCK! Radio, and usually manages to include some prog.
---
| | |
| --- | --- |
| | Print this page in printer-friendly format |
| | |