Just witnessed your best live gig?.. send us a review!
FREEDOM CALL/Arthemis/Neonfly
Camden Underworld, London 18 November 2011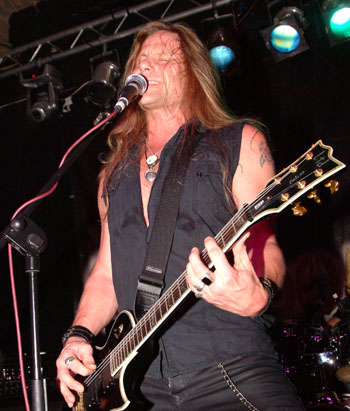 Photo: Noel Buckley
A damn early start with Neonfly onstage at 6:45pm as the Underworld has a pop music club night on at 11pm. Now the Underworld could be a great venue if they got the sound right - all the band's suffered from issues with the vocals including openers Neonfly.
Despite this they still put in a massively entertaining performance. Vocalist Willy Norton was all over the stage and into the crowd at times and the crowd lapped up the band's enjoyable brand of melodic power metal.
'The Revenant', 'Ship With No Sails' and one of the best new tunes I have heard all year, 'Morning Star' were set highlights along with a speed metal style snippet of 'I Thought I Saw A UFO'.
Neonfly are a very talented young band whose album 'Outshine The Sun' should by rights be in the collection of any self-respecting fan of melodic/power metal. The good thing is they can recreate the magic of their album live - a band to see live if you get the chance.

Ah yes Arthemis, a thrash metal band and to be honest not my cup of tea. I do like a little thrash now and then but this lot lacked a decent melody, although 10 out for 10 for their onstage enthusiasm and working a crowd. They even covered Deep Purple's 'Burn' complete with Glenn Hughes approved screams.

Power metal is a funny genre as it has a small, but dedicated following here in the UK but is massive in mainland Europe as could be seen by the audience with some travelling from Poland, Germany and Holland to see the band tonight.
On a side note good to see some former and current band members of Power Quest and Dragonforce in the crowd. I am sure they, like the audience, enjoyed Freedom Call. I only recently discovered them a couple of years ago and was chuffed to finally get to see them live.

The band have a hint of Gamma Ray/Helloween in their music but then they take it to max on guitar solos, choir vocals etc. 'United Alliance' and 'Thunder God' sounded awesome live, melodic power metal at its best. 'Mr Evil' gave another chance for some audience participation. Only the sound at times and a drum solo were the low moments of their set.

One new song was aired of next year's new album, '66 Warriors' I think it was called. It was one of those chant-a-long songs the band excel at. The band only really did one slow(er) number in 'The Quest' (the band use backing tapes for the keys and orchestral parts of their music).

Frontman Chris Bay has a humorous onstage patter and had the crowd joining in all night. Having a decent frontman makes all the difference in a live setting and especially with music that is made for audience participation.
I can't fault one song in the set, they were all good and with an encore including their signature tune 'Freedom Call', it made for a great night of power metal.


Review by Jason Ritchie
---