FREDDE GREDDE Thirteen Eight (2011)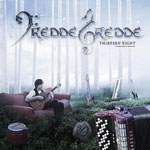 The sheer depth and intensity of this self played and produced album from 26 year old Swede Fredrik Larson is going to surprise all those who encounter it.
At home, Fredde Gredde has become a massive YouTube sensation with 24 million hits. And if you check out some of his work - in particular his hugely impressive 're-makes' of Queen's Somebody To Love, or TV soundtracks and you'll see why. He's hugely talented, and engaging.
But Thirteen Eight makes them look child's play such is the scale of what he's set out to achieve. It's something of a 'magnum opus' and it's hard to conceive that it's a 'homemade' effort with the only external contribution being from David Schlein on drums, and mixing and mastering by William Blackmon.
His YouTube videos demonstrate he a master of guitar, keys, accordion and overdubbing techniques, but even Mike Oldfield would marvel at what Fredde Gredde's delivered here - a huge slice of prog pomp that echoes masters in the field such as Yes and Rush.
Two years in the making (he must have hardly had time to sleep!) it seems a shame that Thirteen Eight has been conceived in solitude, but that seems an increasingly common approach from a generation who were umbilically attached to a Playstation/PC from the moment they gained hand/eye coordination (maybe The Matrix wasn't so wide of the mark).
Thirteen Eight, soars and sweeps, twists and turns from the opening to the closing beat. It's a ride that will appeal to hardcore proggers, but may be a little to challenging for the mainstream, with the exception of the pop/rock Vampire Bride ballad . But hats off the Fredde Gredde - a remarkable piece of work.
***½
Review by Pete Whalley
---