FOZZY Chasing The Grail/Remains Alive earMUSIC (2011)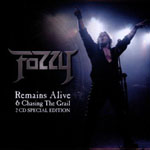 Fozzy started life as a fun outing for American pro wrestler Chris Jericho. Along with former Stuck Mojo guiatrist Rich Ward they have turned the band into a unit to be taken a lot more seriously.
What we have here is a 2CD Special Edition of last year's 'Chasing The Grail' coupled with 'Remains Alive' recorded live down under on the 'All That Remains' tour and finally sees a UK release.A neat package with interchangable covers so you can decide which artwork you want to display in your CD racks.
'Remains Alive' was recorded live in Brisbane, Australia in front of a enthusiastic crowd in 2005. Although Fozzy started life mainly as a covers act, this set sensibly mainly focuses on their own self-penned material with a couple of covers including a brave attempt at Judas Priests 'Freewheel Burning' and a punching 'Eat The Rich' orignally done by the largely overlooked Swiss metallers Krokus.
Chris Jericho & Co are adored by our Aussie friends with regular cries of "Fozzy...Fozzy" throughout the set and it's an enjoyable listen although this won't rank as a classic live opus such as 'No Sleep 'Til Hammersmith' or 'If You Want Blood' but is still worth investigating.
2010's 'Chasing The Grail' is more the real deal where the band come of age. There are some real belters on here. Sounding like Ozzy 'Ozzmosis' era, there is some crisp crunching guitar heroics from Ward. Opener ' Under Blackened Skies' is a real suckerpunch, 'Martyr No More' is a pure headbanging classic which can be put on repeat without ever tiring.
The oddly named 'Paraskavedekatriaphobia (Friday The 13th)' sounds suspiciously like Blondie's 'Call Me' in places. 'God Pounds His Nails' is crucifyingly good, but the ballady 'Broken Soul' and the closing mega epic 'Wormword' shows there is a whole lot more depth to Fozzy these days.
For those of you who haven't yet ventured into the world of Fozzy, this is the perfect place to start. In many ways this package is the very best of Fozzy so far and it will be interesting to see how the band progress from here.
****
Review by Mark Taylor
---
| | |
| --- | --- |
| | Print this page in printer-friendly format |
| | |