FORNOST ARNOR The Death Of A Rose Witch King Records (2011)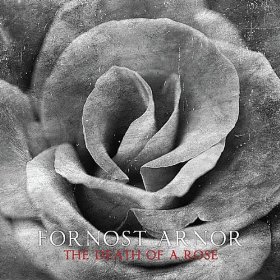 If prog needs to move on, bands like Fornost Arnor are the standard bearers. But will we be listening to them in say ten years time?
I mustn't make any crass comparisons with an industry that has changed beyond recognition since even Megadeth put plec to chord. A band so youthful as this four piece have the years on their side, but do they have the wherewithal to succeed?
The early portents are promising with a contrast between black and white on the opening track, 'Rogue' with its angelic vocals interspersed with death growls.
This formula works most effectively on 'Lady Heresy' featuring some folky guitar more reminiscent of say Tony Iommi's acoustic work. Coupled with lyrical skill and melodic delivery, those passages broken up with galloping drum rolls and dark riffs.
I have no doubt about the band's musicianship. The shredding on 'Aspire for the Darkest Hour' and 'Path Marked Unknown' are meaningful in the context of the song, but overall I am not sure that I had plugged into the vibe.
This might be the onset of years that are making me enjoy the musicianship of the quiet bits as opposed to the inevitable thunderous roar that wakes us from the mythical slumber in almost every track.
I say 'almost every track' because the band prove in 'Farewell' part two of the title track that it doesn't have to be this way. This melodic journey is a joy to behold.
While I understand the need to rock out and also to develop a good versus evil allegory, I just don't think the death growl is always necessary to eek out those contrasts.
It's not my place to advise bands, but I would express what I'd love to hear from these guys in the future.
Great musicianship, an intriguing visual concept, let down occasionally by predictable arrangements.
***½
Review by Keith Thompson
Keith Thompson presents Rockwaves on Get Ready to ROCK! Radio, Sunday 21:00 GMT+1
---
| | |
| --- | --- |
| | Print this page in printer-friendly format |
| | Tell a friend about this page |