Just witnessed your best live gig?.. send us a review!
FOCUS, The Ferry Glasgow 26 October 2011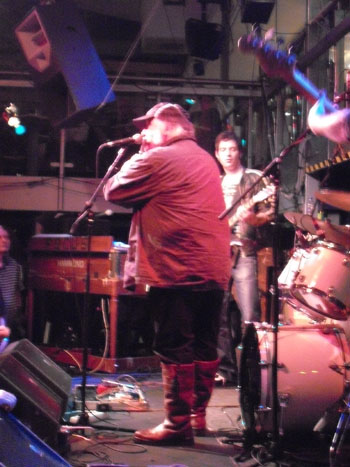 When I mentioned to an acquaintance that I was off to see Focus at The Ferry his response was 'you deserve a medal for that one', hmm. To be honest I was unsure what to expect from this one and walking into the Ferry, which is actually exactly as it says, the old ferry which at one time ran across the Clyde from Renfrew to Clydebank, a lot of the crowd wouldn't have looked out of place as extras in Last Of The Summer Wine. I am not getting any younger myself, but I wasn't far off being the sprightliest onboard.
Already in full flow when we arrived was local blues band Dealer who, it turned out, were rather good. Playing a mix of Howlin' Wolf tracks, a few of their own compositions and an excellent reworking of 'Summertime' they went down well. Special mention to the guitarist, I missed his name, who put in some sterling work throughout.

Whilst waiting for Focus to come on my wife pointed out an individual making his way through the crowd who it would appear had come prepared for the worst the Scottish weather could throw at him, it was only when he made his way to the Hammond organ that I realised it was Thijs Van Leer ! He really did look like he had made his way from an arctic expedition.

When the band started playing though it became apparent why they have maintained a loyal fan base over the years as the musicianship on show was first class.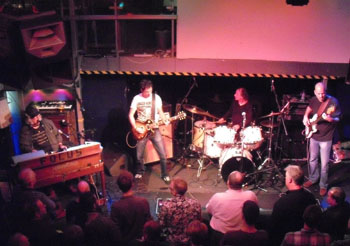 Zoom (Click large image to cancel)
The focal point of the band is Van Leer who is like a slightly eccentric but fun uncle. While either playing up a storm on the organ or conducting the crowd whilst playing the flute at the front of the stage, he clearly still has a passion for the music and the live performance.
He also makes it a bit of a family affair as his wife man's the merch desk, we were all encouraged to go and say 'hi' and perhaps browse while we were there, what better way to advertise your wares.

The other musicians are first class, the guitar playing of Menno Gootjes was outstanding as was the bass playing of Bobby Jacobs.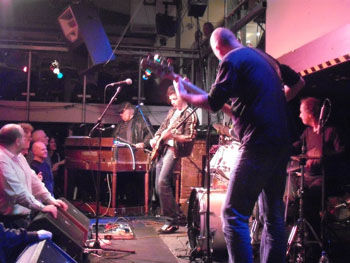 Zoom (Click large image to cancel)
The familiar powerhouse drum patterns of Pierre Van Der Linden are what underpin the whole delivery and pull it all together, especially through the more complicated sections of which there were many.

For me, the shorter more direct numbers were more my bag especially 'House Of The King' and 'Sylvia' and although I did admire the playing on the likes of the 19 minute version of 'Eruption' it veered too far into the realms of jazz rock fusion for my liking, but again that is more to do with my own musical tastes rather than any lack by the band.

I did enjoy the show and if there are any medals to be handed out it should be to Van Leer and Van Der Linden for staying true to the music and continuing to provide a great evening's entertainment after all these years.

Review and photos by David Wilson
---