FINN ARILD Testament (2011)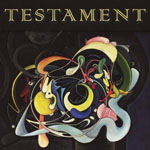 Finn Arild Aasheim is a New Zealand born, Norway raised multi-instrumentalist, who learned to play guitar at six, keyboards at seven, and could play Bach's Toccata and Fugue by the age of eight. He was writing his own pieces by the age of twelve. Some people make you sick don't they?
Given all this ability, does the man put it to good use on this, his second album? Oh yes, and then some.
Given the prog-rock history of albums where the artist plays every damned thing themselves, the propensity for self-indulgence and endless noodling is very high, so this sort of thing should always be approached with caution. Fortunately, with one minor exception, Testament is a triumph.
From the sixteen minute opener 'Genesis' (bit of a clue there) to eight minute closer 'Nemesis', this is a prog-rock Tour de Force of sweeping keyboards, accomplished vocals and stunning guitar throughout. The tracks run one into the other to deliver a single piece, charting Man's history on the planet and although the 'concept album' as such has acquired a certain notoriety over the years (Tales From Topographic Oceans, anybody?), you never feel that self-importance has taken over from the music at any point.
One tiny fly in the ointment is a track called 'Robin' which seems strangely out of place here - in fact it sounds like Billy Joel was recording in the next studio and the tapes got mixed up. But don't let this put you off, it's only the size of a greenfly and there's always the skip button.
Fans of Yes, Marillion, Camel and Genesis (in particular) can invest in confidence here knowing that their hard-earned will be repaid in spades on repeated listens.
Like I said - a triumph.
****
Review by Alan Jones
Alan sequences "The Eclectic Mix" on the third Sunday of every month on Get Ready to ROCK! Radio, and usually manages to include some prog.
---
| | |
| --- | --- |
| | Print this page in printer-friendly format |
| | |