FATAL FUSION Land Of The Sun (2011)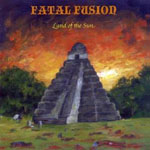 Feared the worst when I read about this - ended up feeling I'd discovered yet another top prog band from Continental Europe. I feared the worst on two fronts - one, they come from Norway, home to the heaviest black metal bands on the planet, and two, they were formed from the ashes of a number of this type of band.
But, and it's a big but, just like their Scandinavian cousins Katatonia with 'Night Is The New Day', Fatal Fusion have turned their back on all that nonsense and headed down the road to redemption known as prog rock. And 'Land Of The Sun' is as good a slab of it as you are likely to find.
Kicking off with the title track, I still feared the worst as the sound of heavy rain and thunder roared out of the speakers. I was expecting something akin to the riff to 'Black Sabbath' to assault my shell-like. But no, a bassline not dissimilar to the 'Floyd's 'Money' feeds in and you can calm down, peel your fingers from the arm of the chair and start listening to a great album revealing its alchemy.
Once past the second track, which is more standard rock fayre with a hybrid riff crossing Edgar Winter's 'Frankenstein' with Zep's 'Moby Dick', you find it increasingly hard to believe that this is the band's first album together. The arrangements are tight, the musicianship peerless and every prog-rock aficionado's tick-box is checked - Floydian guitar - check, mellotron - check, Hammond organ - check and top this off with a great, accentless vocalist and you have the makings of a top band.
Mention must also be made of the final track on the album. 'Out To The Fields' is over fifteen minutes of purely instrumental prog-rock with soaring guitar and sweeping keyboards that any band with years of experience in the genre would be proud of, let alone a bunch of first-timers. Stunning.
****
Review by Alan Jones
Alan sequences "The Eclectic Mix" on the third Sunday of every month on Get Ready to ROCK! Radio, and usually manages to include some prog.
---
| | |
| --- | --- |
| | Print this page in printer-friendly format |
| | |