EVANESCENCE Evanescence Wind-Up/EMI (2011)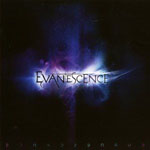 For a band releasing only their third album they have been through many line-up changes, as well as various personal issues. This album sees a couple of returning members but it is vocalist Amy Lee who is the main focus of this band. Not forgetting as well they have sold millions of albums worldwide, having conquered the knack of appealing to metal fans and the more casual rock fan.
Expectations will be big on this release, not least their record label EMI who need a hit or two after losing some high profile artists of late. Overall this is not as instant as their previous two albums but give it time and the music soon grows on you.
'What You Want' and 'Made Of Stone' are two strong songs to get the album going, massive orchestrations and of course the sweeping vocals of Amy Lee. 'The Other Side' steals the gothic metal crown of bands like Nightwish with a strong, dark lyric for a band not normally associated with this. 'Oceans' I am sure is another single-in-waiting, whilst 'Swimming Home' with its trippy feel would be prefect in a chill out lounge.
No worries that this album will please the band's many fans and prove another hit for them. If like me you like female fronted goth metal/rock but find the wailing of Nightwish a bit too much this band are the perfect fit.
****
Review by Jason Ritchie
---
| | |
| --- | --- |
| | Print this page in printer-friendly format |
| | |