ERIC GALES Transformation Provogue (2011)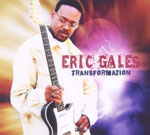 Eric Gales is certainly not the first and probably not the last musician to seek salvation in music in the face of personal adversity, in his case serving a jail sentence. Like many before him he's needed a personal challenge to get the best out of himself and happily the resulting 'Transformation' album is one of his very best efforts.
Given the title of the new album, tracks such as 'Railroaded', 'Time Waits For No One', 'Sea of Bad Blood' and the love song 'Too Late To Cry', suggest he's been doing some serious thinking, and in moving on from 'Relentless' to the current 'Transformation' cd he's undergone in his own words 'a relentless transformation'. His vocals remain at best a sensual whisper and at worse understated monotone, but there's no such problem with his stellar guitar playing, as he pours all his emotional strength into a series of scintillating solos that make 'Transformation' an essential 5 star purchase.
Had this been another time and another era Gales would already have been feted well beyond the realms of guitar fans in the know, let alone by those critics who lazily draw comparisons between his Eric's left handed upside down guitar playing and Hendrix.
Sure in his more inspirational moments - and there are many - he cuts lose with the kind of outrageous licks and adventurous solos that made Hendrix so unique. Gales also frequently shares Jimi's moments of wild abandon but while Eric's playing shapes his songs and frequently transforms them into something completely different, his subtle changes of tone and his biting attack, mark him out as a much more disciplined player.
Gale's previous albums such as 'Crystal Vision', 'The Psychedelic Underground' and 'Relentless' all had their moments of stunning guitar playing and an ever present psychedelic tinge, but 'Transformation' is slightly different. There's still plenty of cutting edge solos combined with Mike Varney's busy but meticulous production which captures Eric's intensity and there's always essential feeling that Eric is never really satisfied until he's explored every last possibility in a solo.
But there's more of common thread at play as he works his way through a personal cathartic release via a set of songs that by turns explore feelings of hurt, guilt as well as reflection and self revelation.
On the uncompromising 'Tortured Mind' he sings about 'Walking between the livin' and the dead, hiding from the voices in my head. I don't want to be lonely, I don't want to be sad' which leads to the hook of; 'Lord have mercy on this tortured mind of mine'. And once he's done with the lyrics he bursts into life on his guitar. His incendiary soloing is pushed every inch of the way by a wildcat rhythm section that includes powerhouse drummer Aaron Haggerty.
The album opens with 'Railroaded' which features a sharply contrasting avalanche of guitar notes and quietly phrased vocals on a song that sounds a bit like 'Catfish Blues'. But as Eric's lyrics protest his innocence he takes out his venom on his guitar. At the 3 minute 10 second mark his notes are crystal clear and speak to you as intimately as only poetry can, and he slips into a wah wah inflected solo that leaves you in no doubt as to his raging feelings as he rolls off several fiery note clusters.
'Transformation' sets a very high standard that the album as a whole does well to follow. And as if limbering up for what is to follow, there's a lightning fast shuffle 'Double Dipping' that will doubtless bring club and festival fans to their feet as Eric explodes like a spring coil in two and half minutes of fluent guitar playing.
His personal journey takes in a searing solo on 'Pity The Fool' and he adds a funky edge to the stunning volcanic eruption just past the two minute mark on 'Altered Destiny'. The aptly titled 'Catchin' up with the Past' is another expansive wah wah led rocker on which he reflects, 'I'm catching up with the past before the past catches up with me', before some more tough big toned note flurries.
There's a refreshing clean attack on the slow blues 'Sometimes Wrong Feels Right' which is a double tracked guitar piece that emphasizes Eric's natural feel, sumptuous tone and effortless technique and he's at his mesmerising best on the surprisingly cool 'Too Late To Cry'. He signs off with the caustic 'I Wouldn't Treat A Dog That Way' singing; 'I've been staying away but I've been running out places to hide', but by the time he delivers his last mesmerising solo, he's just about completed his own transformation, with one of the best albums of his career.
*****
Review by Pete Feenstra
---
| | |
| --- | --- |
| | Print this page in printer-friendly format |
| | |