EDGAR BROUGHTON BAND The Harvest Years 1969-1973 EMI (2011)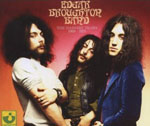 You really can't beat these EMI reissues. Cramming five studio albums on to 4 CDs with bonus tracks is a marvellous way for reappraisal at a bargain price. Arguably, as far as the Edgar Broughton Band is concerned, this is all you'll ever need.
EBB spanned prog, blues and psych with a visceral debut in 1969 'Wasa Wasa' which drew comparisons with US garage bands Blue Cheer and MC5. There is some similarity, too, to Captain Beefheart whose 'Drop Out Boogie' they melded with 'Apache' and is included here.
Signed to Harvest in 1968 the band were not quite as prog as most of that label's output, and the debut is bolstered by a couple of non-album track singles including the excellent 'Freedom'.
Collectors should note that bonus tracks appeared on the previous album remasters and inevitably don't all fit on here. 1970's 'Sing Brother Sing', for example, contained no less than 8 bonuses when reissued in 2004.
1971's 'Edgar Broughton Band' featured a memorable album sleeve of hanging meat as well as new keyboard player Victor Unitt (who had played guitar in an early band incarnation). This is generally regarded as the band's most satisfying album and had the sophistication of a David Bedford string arrangement and a cameo appearance by Mike Oldfield.
EBB still sounded more American than many of their contemporaries but they were never going to break into the mainstream with their cocktail of country-tinged and blues rock, compelling as it was. The single 'Hotel Room' did receive Radio 1 airplay, though, but singles seemed to be merely a concession for this band rather than a serious commitment.
'Inside Out' (1972) continued the blues rock vibe whilst 'Oora' (1973) is possibly more accessible. It harks back to the debut with the use of psych motifs and at times evokes Talking Heads/David Byrne.
The real bonus for collectors in this boxed set is a previously unreleased Hyde Park gig from July 1970 when they performed tracks from the first two albums including the non-album track 'Silver Needle'.
Sound quality throughout is superb and - given that the band imploded in 1976 - this is a pretty definitive summation that includes a recent liner note interview with Edgar and Steve Broughton. The inclusion of those unreleased live tracks, though, does make this a potentially painful purchase for collectors who will own the rest - and even for those casual buyers who picked up the earlier (2001) Best Of.
***½
Review by David Randall
---
| | |
| --- | --- |
| | Print this page in printer-friendly format |
| | |