EAMON McGRATH Peacemaker White Wale Records (2011)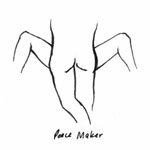 Eamon McGrath is a 22 year old songwriter with attitude from Edmonton in Canada.
The ageist remark is fundamental because he sings like as if he's had a very tough paper round indeed. And that's no slur. That combined with the grungy guitar that sounds like Tom Waits has gone round to Dave Grohl's studio for a jam.
I recently played 'Headless Horseman' and 'Heaven Run Me Down' on my Rockwaves show and must admit to being undecided whether the former was about naivity or poetic license. Nice arrangement but I couldn't spot the presumed metaphor in the words. More fool me no doubt.
Certainly 'Heaven Run Me Down' is a treat with a passionate lyric and a lazy strum leading to a wonderful yet unpredictable crescendo. The best track on the album by far.
The songs are personal portholes into the artist's observations of live so far. McGrath is not afraid to lay bare the content without the help of Pro Tools to make him sound polished.
On 'Icebreaker' for example, it's checked shirt Nebraska style philosophy. 'Dark End of the Street' forms the subject of the promotional video and we inevitably pick up shades of The Boss with those guttural tones straining for the key melody.
While we're on the complementary comparisons, Tom Petty is more of an influence on 'Wrecking Ball' with its jangling medium paced delivery and intriguing message around the 'life's too short' kind of theme.
Eamon McGrath shows us that being young and good looking doesn't mean you have to sound twee. Like Townes Van Zandt, he can certainly tell a story.
I 'get' the rough edged production. This is no X Factor kid. But the whole thing grated on me at times. It's not the voice nor the raw guitar so much, it simply needs bassing up without sanitising the presentation.
One to watch but not the finished article...yet
***
Review by Keith Thompson
Keith Thompson presents Rockwaves on Get Ready to ROCK! Radio, Sunday 21:00 GMT+1
---
| | |
| --- | --- |
| | Print this page in printer-friendly format |
| | Tell a friend about this page |