DUFF McKAGAN'S LOADED Sick Special Edition Armoury Records (2011)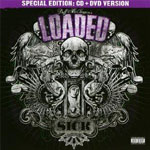 Following the recent release of new album 'The Taking', Duff McKagan's Loaded are now re-releasing 2008's 'Sick' as a special edition CD/DVD. Best known for his work with Guns N Roses and Velvet Revolver, it is with Loaded that Duff McKagan has found longevity and relative stability as this is the band that he has been with the longest, albeit with the odd period of hiatus and change of line-up.
'Sick' is often overlooked and is definitely underrated. Loaded are a great, tight band whose massive songs have a punk edge to them whilst still appealing to fans of several genres of rock music. The original album has had bonus tracks 'Roll Away' and an acoustic version of 'Wasted Heart' added to it and comes with a bonus DVD that was previously only available with the deluxe edition, and is also complete with new artwork.
Opening track 'Sick' is a raw, punk infused blitz and that attitude and swagger appears throughout the album, especially on tracks like 'Translucent' and 'Sleaze Factory'. 'Wasted Heart' could easily have fitted in on either of Guns N Roses' 'Illusion' albums whilst 'No Shame' could easily have been written about former Velvet Revolver band mate Scott Weiland. There is also an almost Stones like feel in parts of the album, the afore mentioned 'Wasted Heart' is a good example of this, as is 'Blind Date Girl' which features some very Stonesy horns. Other highlights on the album include the sleaze drenched track 'Flatline', 'I See You' and 'Forgive Me'.
The DVD has 11 live tracks recorded at the band's 2008 Glasgow Garage gig, the promo video for 'No More' and 6 webisodes from the band.
'Sick'was always a great album but this special edition takes it that step further and, if Loaded was McKagan's only output in the future, would that be a bad thing? I think not.
****
Review by Nikk Gunns
---
| | |
| --- | --- |
| | Print this page in printer-friendly format |
| | Tell a friend about this page |