GIANNI ROJATTI'S DOLCETTI Metallo Beat Heart Of Steel Records (2011)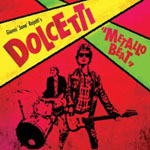 'Metallo Beat' is everything you could wish for from Gianni Rojatti, a guitar shredder who crosses over virtuoso rock instrumentalism, to shades of metal and inventive prog.
Ostensibly built round the duo of Rajatti and drummer Erik Tulissio, 'Metallo Beat' boasts 8 tracks that push a handful of guest musician to their limit.
And while undoubted parallels will be drawn with virtuoso guitarists like Vai, Satriani, Malmsteen, Andy Timmons and Paul Gilbert etc, what makes Docletti just that bit more interesting is the organic feel of inspired players going for it in a studio setting.
The songs are tightly structured, the arrangements at times complex and the time signatures ever changing, but unlike many of his contemporaries Gianni doesn't fire off a million notes for the sake of it. Each number has an inner core, more often than not rooted in a staccato rhythm track and a busy bass line. And as on the opening 'Tribale' the music is imbued with a stop-start dynamic.
But Rojatti's compositions also come with a keen sense of melody. Sometimes they belatedly reveal themselves on the back of a succession of guitar and keyboard sweeps, while on tracks like 'Transport' Gianni's searing guitar lines are underpinned by Lorenzo Felciati's restless bass line and are interspersed with apparent 'stream of consciousness' style vocals. Gianni's is also joined by the Grammy nominated guitarist Alex Masi for some magnificent playing as the duo hold back enough to explore a Zappa tinged deep groove, beautifully anchored by drummer Erik Tulissio.
'Tremors' like all the tracks here, remarkably clocks in at exactly three minutes, thirty three seconds and breathes a little more, though there's still plenty of feverish guitar, coruscating riffs and a spiralling solo on a track that is a real head trip.
'Trytrebor' is a mighty toned trio jam with incredible energy levels and a sudden stop-time pause before Gianni solos like an exploding spring coil. The following reggae influenced poppy feel of 'Away From Home (Klark Kent)' comes almost as relief while 'Tresex' owes much to King Crimson's 'Red'.
And in between the dark brooding guitar parts and rumbling stop-starts, Gianni explores a beautifully crafted solo around the 1 minute 28 seconds mark, as part of a melodic progression.
'Tresex' is one example of how Dolcetti collectively weave in and out of a core idea and hit some magical heights before coming back to bass. You want heavy intense prog rock? Look no further than the outrageous sustained note, the tic toc rhythm break and the return to the Crimson coda that makes this track an album highlight.
The album's subtle sense of flow is neatly wrapped up by the almost imperceptible segue into the closing 'Tremendous'. This perfectly titled outro is another rigorously edited 3 minute 33 seconds of out of this world soling.
Gianni 'Jana' Rojatti has the chops of a top fusion player, but his music has heart, emotion, humour and is contextualised by essential band interplay. I unreservedly urge you to check out 'Metallo Beat' as the crossover from prog to metal and fusion never sounded better.
*****
Review by Pete Feenstra
---
| | |
| --- | --- |
| | Print this page in printer-friendly format |
| | |