DES HORSFALL'S KUSCHTY RYE Good Gentleman's Tonic (2011)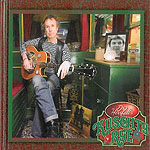 Des Horsfall is a Ronnie Lane fan pure and simple. Ronnie's pic even appears on the front cover of the album.
Any why not? Lane was one of the cleverest proponents of English rock ever. But this is not a tribute album as such. In fact before we draw immature conclusions as to whether it's your cup of tea - oh and by the way a tea bag is included as special bonus - Des is inviting us to view and hear a story as well as listen to the CD.
In essence we have a folk tale about Des's fruitless search for rock stardom and his eccentric journey to find the mysterious Gypsy Rosie Lea, hence tea bag. There's definitely still a market for this folk oriented rock with Stackridge making a successful return to the studio.
Spinning this for the first time, Des Horsfall touches with some skilful lyricism against a backdrop of mandolin an/or guitar based rhythms. This works best on songs like the excellent, 'Randon Acts of Kindness' with its minimalist approach and pleasing vibe. Strangely I am hearing more Squeeze than Ronnie Laine but that's not a bad set of inevitable comparisons.
Weaker songs include 'No One Talks' (to no one any more) which does make a point but, while we are on comparison, it does sound too much like Chas and Dave live at the old Bull and Duck and that's certainly where I would admit some prejudice. Although I also realise that there are many who simply want songs to talk to them rather than slap them 'full square on their botty.'
Reservations notwithstanding, I confess to liking Des Horsfall and his whole approach to crafting a beautiful package with the help of his friends who include the inimitable Professor Stanley Unwin and a 24 minute long Unwinese Mix. I think you get the picture by now. VFM? Not arf!
I just couldn't get away from this nagging view that if you are releasing your own album, I am not sure why you would want to bring your inspirational hero so prominently into the frame. Influences are one thing but tributes can be misinterpreted as laziness.
Not my cup of tea personally, but plenty of Faces, Laine and folk rock fans could well be uplifted by this warm and inviting musician. whose aim is to please and not to disturb.
***½
Review by Keith Thompson
Keith Thompson presents Rockwaves on Get Ready to ROCK! Radio, Sunday 21:00 GMT+1
---
| | |
| --- | --- |
| | Print this page in printer-friendly format |
| | Tell a friend about this page |