DEREK AND THE DOMINOS Layla And Other Assorted Love Songs Universal Deluxe Edition (2011)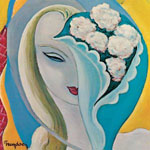 Nearly forty years after its release, the one and only Derek and the Dominos studio album is still best known for its title track - an edited version at that - which became a hit single in 1972 and a staple of classic rock radio.
The 40th anniversary is celebrated with a handsome reissue bolstered by bonus cuts which effectively brings together the Layla and Derek/Eric canon in one place. There are various configurations, including a 2-CD deluxe edition (reviewed here) and a 4-CD/DVD super deluxe edition which includes two discs of expanded material from the In Concert set recorded at Fillmore East in October 1970. A hardcover book and facsimilie memorabilia complete this package which will set you back the best part of 90 quid.
In truth the original album was patchy and at the time of its release not universally praised by the music press. It still sounds patchy, but collectors will be drawn to the previously unreleased live material from a Johnny Cash TV show (four tracks recorded in November 1970) whilst for completism we get tracks recorded for a second album which never saw the light of day, although these have previously appeared on the Crossroads set in 1988. However 'Got To Get Better In A Little While' appears for the first time as a fully produced studio version.
The album was also serviced back in 1990 when the 20th anniversary edition included session outtakes (only one of which appears here) and jams (again excluded).
Derek and the Dominos was a conceit, Clapton even had to make it known via the press that 'Derek is Eric', and it came at a time when Clapton was pursuing George Harrison's wife Pattie Boyd. His frustration, fuelled in the early seventies by booze and drugs, effectively stymied the second album. It was only after a hiatus of a couple of years that Clapton was fully rejuvenated via his appearance at the Rainbow Theatre in January 1973.
But by that time tragedy had beset a key member of the original Layla band: Duane Allman who played some of his best slide work on the album died in a motorcycle accident in 1971.
Originally a 2 disc set when released in November 1970, stylistically 'Layla' bears some resemblance to Clapton's work with Delaney and Bonnie (where he met Layla alumni Bobby Whitlock, Carl Radle and Jim Gordon). It's freewheeling music, with Clapton acknowledging his American blues roots (and including songs first made famous by the likes of Bessie Smith and Big Bill Broonzy).
Which brings us to that track. Whilst it gave Clapton one of his biggest single successes 'Layla' stands out on the album as the most overtly rock track and therefore it is not truly representative of the album as a whole.
Overall, though, this reissue is a fine, if not quite definitive, representation of an important - if painful - personal period in the history of an enduring guitar legend.
****
Review by David Randall
---
| | |
| --- | --- |
| | Print this page in printer-friendly format |
| | Tell a friend about this page |