VARIOUS The Last Daze Of The Underground (The Delerium Records Story) Esoteric (2011)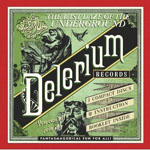 Ah ... Boris & His Amazing Balalaika... where has he been all these years? Turns out, still working on his second album, even if it is a mere 17 years since he taped 'Toadstool Soup' for Richard Allen's wilfully-wayward psych Delerium label.
Richard tells it like it is in highly entertaining 48 page-booklet notes homed in a superb 3CD box set compilation celebrating his defunct charge, now seconded to prog exhumers Esoteric. Richard relishes his signings with tantalising titbits of goss: Boris headlined over Take That in 1991! The mind boggles as to what the teenies made of his dayglo jumpsuit and choice of instrumentation (or for that matter what the heads made of future chart troublers, Gary, Robbie and chums).
Allen's signings during his tenure of Delerium between 1992 and 1997 were a diverse bunch but if you sought common demoninators, think: wayward stoners, free festivals, dogs wearing scarves, a soundscape spanning Hawkwind crunched into krautrock, witchy folk, and some damn fine, straight-down-the-line rock, and - you get the gist.
Standouts are inevitably Allen's best known hirelings, Porcupine Tree (he went on the manage them) and then you have the joys of Omnia Opera, The Suicidal Flowers, Mandragora (jossstick wavers all), Germany-based US ex-pat twitchy, whispering Jeff Tarlton (ahead of his time) and indie-rock turns like On Trial whose 'Everything' remains as fresh as the day it was minted.
This retrospective is perhaps inevitably something of a curate's egg (some of the festival fave noodling can make you want to go off and out the kettle on) but ultimately it stays the course, spirited on by the ringmaster's reflections, drolly contexted in a sub-Bonzo Dog graphic landscape that boosts the outcome with a further * as far as we are concerned. Delerious!
****
Review by Peter Muir
Peter presents 'Progressive Fusion' on Get Ready to ROCK! Radio every Sunday at 19:00 GMT
---
| | |
| --- | --- |
| | Print this page in printer-friendly format |
| | |