Just witnessed your best live gig?.. send us a review!
DEAN GUITARS PARTY, The Standard, Walthamstow
24 September 2011
Photos by Noel Buckley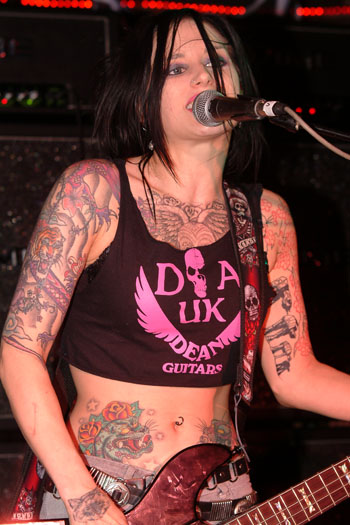 The party of the year so far, hosted by Dean Guitars along with a host of guests and a fair bit of unashamed marketing.
To be fair, there isn't anyone in metal who doesn't rate Dean and to redeem themselves there was a fabulous raffle with all the prizes provided by Dean and its other partners at the event.
Top prize was a Limited edition Union Jack emblazoned " Razorback" guitar, or the "Razorjack" that it's been dubbed.
All proceeds from the raffle went to the noble cause of Childline and due to the nature of the prizes there was plenty of cash raised on the night. Who says metal heads don't care!

The opening act was Zocalo fresh from the Bloodstock 'New Blood Stage' a female fronted five piece from South London who got the crowd warmed up with their own brand of what they describe as Hard Groove.
It was pretty heavy and the riffs were catchy. The singer, Sarah, oozes personality and had a good rapport with the crowd showing her best South London banter. They had an EP out last year called 'Providence' and are currently working on a full album due for release next year independently.
http://www.facebook.com/ZOCALO.UK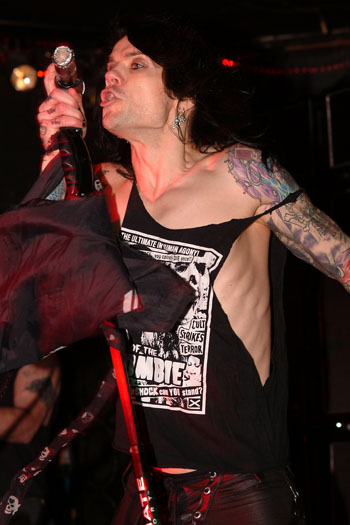 Next up was Spit Like This...A Surrey based four piece fronted by the inimitable Lord Zion. This is an act that could really go places.
The stage seemed too small for them. Their brand of noise is described by the (very hot) bass player Vikki Spit as Glam Punk Rock.
If you throw in a bit of Misfits, Rob Zombie, The Ramones and give it some energy throw in some horror kitsch and some great tattoos and you are heading in the right direction.
Lord Zion has a real presence and energy on stage and really captivates the crowd with his performance and musically they are very tight. They have a new album due for release soon called "Normalityville Horror" You can check them out www.spitlikethis.com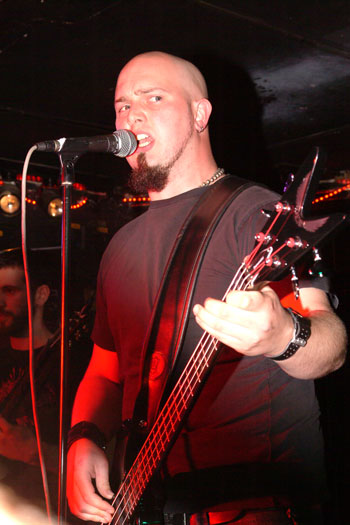 The third band of the evening were Arceye a tough looking, hard sounding four piece. Despite some early technical issues in their set beyond their control, the boys managed to convey their brutal truth to a willing audience. I will look forward to seeing them again. Some nice tracks to listen to on their facebook page http://www.facebook.com/Arceye?sk=wall
One of the highlights of the evening came next in the shape of 101% Pantera, a convincing soundalike band.
I am not usually one for covers bands but I do love a bit of Pantera and these guys pulled off something pretty damn close to the original.
Being a Dean night the guitarist was in heaven with his Razorback, Dimebag pedals and Dime signature amps and with his head down soloing in that "oh so Dimebag" way, the guitarist made a pretty damn good effort of those shredding riffs and they damn sure sounded the part. http://www.facebook.com/101Pantera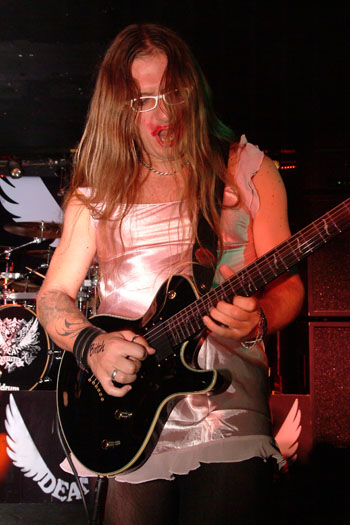 Next up was Arthemis who provided the nights comedy moment by presenting themselves as their alter egos, Farthemis.
The Italian outfit who describe themselves as "Heavy thrash metal warriors" turned up dressed as women! They went the whole hog, makeup, dresses, the lot!
The set they played comprised of some "interesting" takes on pop songs. Lady Gaga, Beyonce and even Michael Jackson got the full Farthemis makeover. They were a very entertaining band and worthy of a look at their real music.
http://www.facebook.com/arthemis.official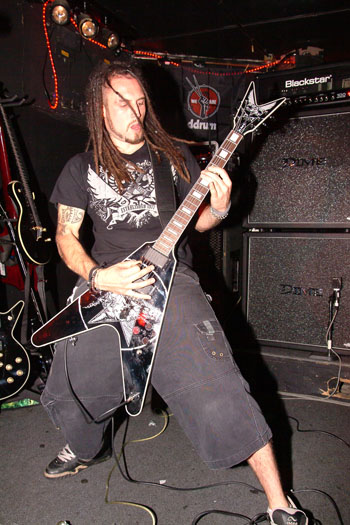 Finally the night was rounded off by the mighty Beholder...Not a lot to say about these guys except that they have all the attitude and calibre to really push on.
The Midlands based 5 piece are currently signed to Razorline Records and Bruce Dickinson once described them as "a huge reputation in the making" ...Thanks Bruce!
They have a fair following of their own and provide a brutal mix of riffs. Their beardy, they're brutal and they're loud, It doesn't get more metal than that!!! http://www.facebook.com/BeholderUK

Review by Adrian Kiely
Photos by Noel Buckley
---