DE STAAT Machinery Cool Green/Mascot Records (2011)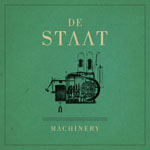 De Staat's 'Machinery' is that rare thing, a work full of heavy muscular grooves, sledgehammer riffs and techno intensity, in a cauldron of creativity that has enough of an eye for a good song to embrace Zappa's notion of mechanical mutant dance.
De Staat set themselves the difficult task of creating something new and unique from an industrial sounding landscape and their use of repetitive rhythms. Happily 'Machinery' strikes a successful balance between the sense of order that presides over the functional parts and the organic end product that only a band context can provide. In many respects 'Machinery' sounds like a one man project that has outgrown its initial concept to embrace a contemporary hybrid that the band themselves call 'psycho funk'.
The strength of 'Machinery' lies in Torre Florim's disciplined conceptual notion of what De Staat is. He's cute enough to have stolen the band's name from controversial Dutch composer Louis Andreisen who rejected the notion of music as being above the 'here and now', viewing it rather as the result of 'social circumstances and individual listening experience'. And it is the 'propulsive rhythms and distinctive sonorities' he championed that lie at the heart of this album.
There's an unlikely but compelling mix of techno warped funk and Germanic electro (pushed through a Dutch sieve), powered by the hard riff driven 'robot rock' of say Queen of the Stone Age. In their brighter moments as on 'Psycho Disco', De Staat also nuances Heaven 17, Blancmange and more inevitably Talking Heads.
And yet despite the varied musical strands and tensions, the album never veers too far from its mechanical heartbeat. It is a musical root that is given its organic expression by the acute sense of the collective will. The result is by turns rocky, dancy, intense, and always full of mechanical clanking grooves. And when on 'I'm A Rat' the band step out with something different again, they uncover a rich, soulful, funky groove as Torre explores his falsetto over some unlikely Steve Hillage style spacy riffs.
There's a sense of meticulous planning and a grasp of the importance of sonic quality. at the core of this adventurous musical sweep. This is particularly so on the Nick Cave influenced 'Keep Me Home', which is carried by a dirgy choral bombast that is arresting enough to evoke a cinematic aspect.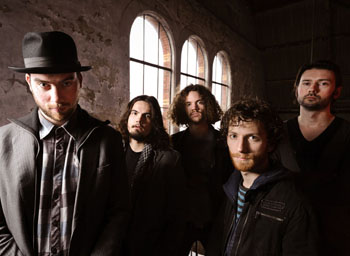 Then there's the concluding metallic clunk of 'Back To the Grind', which apart from being a possible oblique reference to Cave's band Grinderman' is a belated anchoring of the band's mechanical style.
'Mechanical' is an album that ebbs and flows as Florim's imagination fleetingly settles on different musical elements. From the opening exclamatory yell, the band dive straight into 'Ah I See' on the back of a rumbling bass, ripping drums, an ascending air raid siren and a keyboard generated football style chant. The choral wall of sound, rap-rock vocals and tautly sprung rhythms explode into a suitable climactic finish. 'Sweatshop' the new single is a slice of industrial funk with some B52's style vocals and neatly embellished synth noodles, while 'I'll Never Marry You' is closer to warm melodic pop, on which Florin explores his subtle vocal range over a bank of ascending keyboards chords.
'Machinery' never loses its ability to surprise. From the rhythmic hand claps, James Brown style military rap, fractured funk and wild thrusting synths of 'Old Macdonald Don't Have No Farm No More', to the angular dance groove of 'Pyscho Disco', De Staat revel in a celebration of their collective musical vision.
This is an album full of catchy tunes, coruscating riffs, instant hooks with potential crossover appeal. There may be an on going balancing act between the accessible and the edgy, but ultimately 'Machinery' reins you in. And while the more eclectic pieces such as the hypnotic 'Rooster Man' and over accentuated Phil Lynott style chorus of 'Serial Killer' are probably best understood as part of the greater whole, they all find their place in Florim's mechanical musical vision. All part of the 'Machinery' as you might say.
****
Review by Pete Feenstra
---
| | |
| --- | --- |
| | Print this page in printer-friendly format |
| | |