DAVID SINCLAIR TRIO Take Me There CDISCS003 (2011)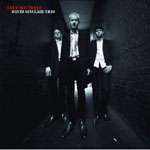 David Sinclair is a man of words in more ways than one. Apart from his day job as a music journalist he's a band leader and a song writer who works hard to make the most of his succinct tales of life, love and the constant theme of passing time.
The theme rears its head early on the song 'Years Disappear'; 'Days turn into years, so drink your summer wine, years disappear, it'll be just fine'
And if not quite Thomas Mann he's an astute chronicler of the ups and down of our existence who manages to transform potentially weighty subject matter into something both catchy and accessible via a post punk minimalist approach.
He comes closet to his goal on the opening 'Living Like A Yo Yo', a song of such prescience that it could almost be about our current troubled financial times. It's a bouncy, catchy number with an infectious chorus that is driven by jangling guitars and a big drum sound and finishes with a Ray Davies style London rap. And it is the Kinks wordsmith who influences much of the material here, especially given Sinclair's penchant for phrasing some of his lyrics in semi spoken word format and in a spiky post punk delivery.
That said he makes an effective use of a great top line alongside Paul Jones's harp on 'Loneliness (Won't Leave Me Alone)', one of the few songs on which the band actually stretch out. But Sinclair is all about the primacy of the written word and the flow of a song, born of the integral relationship between words and music. And to that end 'Loneliness' achieves a clever contrast between its unforgiving subject matter and the song's up beat delivery.
And if Ray Davies is an influence so are the Stones, as evidenced by the dirt sounding country intro of 'Years Disappear' on a song which combines steely riffs with auto biographical lyrics. He reminisces about the 60's and then reflects on the 70's; 'Hanging out in the Roundhouse, Back in '76' and then moves on to the next life cycle in the 80s; 'We took a walk to the town hall, came home man and wife' and finally into the 90's only to 'come down in a new century'. He concludes with a line 'Well it's a lifetime my friend and its no time at all', which provides a valuable conceptual link to most of his songs.
By the time of 'The Big Idea' - a co write with Andy White who is one of several collaborators on the album from David's visit to the UK song writing festival, his contemplation of the bigger picture seems to leap from the core substance of a song to life itself. By the David Sinclair Trio's standards it's a big production number with a big finale, hampered only slightly by another spoken word delivery.
But it is the power of Sinclair's lyrics and his story telling narratives that glue together 10 thoughtful tracks which if delivered in a Trans Atlantic swagger would surely gain a bigger audience. The clever word play on another time related song 'The Week Is Almost Over' benefits from judicious backing vocals, much better lead vocals and a strong chorus; 'Friday Night the slide begins, on Saturday you find you lose some friends, Sunday, sound of violins, the week is almost over'.
There's further wistful reflection on the poppy 'Perfect In Every Way', a song that could be Squeeze, while the piano led, poignant ballad 'When Love Goes To Sleep' pushes 'Living Like A Yo-Yo' to be the best track on the album. David finally seems to have taken a different approach to his vocal with some warmer close to the mic phrasing, offering a distant echo of a Lou Reed growl. The song opens with a very effective dreamy lead line with a beautiful swell on the chorus and a sonorous harp from Paul Jones. And as the song builds up almost imperceptibly on the back of a repeated chorus you can't help but feel the song writing classes seem to paying dividends.
There's some Elvis Costello/Nick Lowe poppy influences on 'Motion Sickness' while the rather syrupy pop of 'Caledonian Skies' is a touch lightweight. More worryingly the song comes too close to a Rod Stewart/McCartney sing-along mode and is only barely offset by a big choral finish. In truth it's a bit lightweight after what's gone before but does provide the album with a natural climactic finish.
'Take Me There' has enough good songs to match two outstanding efforts that provide DST with their best yet album. There's very little slack or cliché and while the songs are all penned by DS (excepting the co-written 'Big Idea'), he's smart enough to have worked the band's component musical parts into the songs, incorporating crisp drumming, varying guitar colours and sparkling guest parts. All that is missing is an outside producer to provide David with some variety to his vocal attack, for while his most obvious influence Ray Davies also struggled with his vocals he did have a guitar wielding brother whose slashed chords gave the world heavy metal.
*****
Review by Pete Feenstra
---
| | |
| --- | --- |
| | Print this page in printer-friendly format |
| | |