DAVID KUBINEC Return To The World Of Oz Voiceprint HSTO38CD (2011)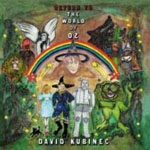 The hype surrounding comeback albums is too often far in excess of what they actually deliver. Not so much a comeback album, as a return to his conceptual world of the late 60's,'Return to the World of Oz' finds David Kubinec's the founder member of The World Of Oz' raking over the coals of his sugary pop song writing. And it is the retro perspective of 'Return To' that may well be its selling point, though the juxtaposition of harmony pop and Blue Beat occasionally make strange bedfellows.
David has obviously been through the music biz grinder as the sleeve note parable suggests. But given another opportunity four decades after the last 'Oz' album and 3 intervening Rats albums, he's cut an interesting but inconsistent mish-mash of pop rock that has its moments but lacks a cutting edge production.
Central to the album is of course the psychedelic pop classic 'The Muffin Man'69' which originally sank without trace in the UK but earned scurrilous members of the music business plenty of wonga in Europe.
David evidently missed out financially, but you can't keep a good song writer down for long. Not to be confused with the later Zappa song of the same name 'The Muffin Man' is a late 60's classic. Bereft of its original strings and horns and now full of synths in a more skeletal mode, it is still great song of its genre, and is probably the main reason for buying this album.
For the rest, 'Return To' is a patchy album with some good ideas and fleetingly inspired moments but ultimately lacks enough substance to fully convince.
The main problem is a lack of musical direction as the ten tracks resemble a draw full of long forgotten ideas. The Blue Beat/Ska feel of the opening 'More Ego'- later echoed on 'Mankruel' - provided a successful formula Madness in the 80's and sits uneasily alongside 'Lies', an angst ridden Paul & Barry Ryan style pop song
'The latter also leans on The Isley Brothers version of 'This Old Heart of Mine' for its melody line, while on the horn led rock ballad 'Black 'N' Blue' David's voice nuances Axl Rose's vocal rasp. It's a great song which only lacks a bigger production and a more belligerent concluding guitar solo to fulfil its rich promise.
'Run For Cover' opens with the great line; 'It Feels So Right, It Must Be Wrong' and comes with a Tremeloes harmony line, before David adds a trembly Robin Gibb style vocal on the acoustic 'Faded Sun'. A wide array of influences finally comes to rest on Marc Bolan with a derivative vocal flutter on 'It's Easily Done'
Much like the late 60's music scene in general, 'Return to the World of Oz' is good in parts. And overlooking a dire need for a consistent musical direction there's enough catchy and clever musical moments, sparkling harmonies and potentially good pop tunes to suggest that there is still a niche for this overlooked pop stylist.
***
Review by Pete Feenstra
---
| | |
| --- | --- |
| | Print this page in printer-friendly format |
| | |