DAVE MATTHEWS BAND Lucca, Italy 3-CD, Eagle Records (2011)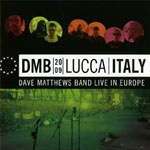 It's hard to believe that this year marks the 20th anniversary of the Dave Matthews Band- 20 years in which the band have released 7 studio and countless live albums. With a solid fan base throughout Europe and the US, the band continue to shift large amounts of both albums and concert tickets and this live album was recorded on their 2009 European tour.
Previously only available as part of the deluxe book version of the band's 2009 album 'Big Whisky and The Groogrux King', this 3 CD set comprises of the band's live set from Lucca, Italy (hence the title!!) recorded in July 2009. Containing 21 tracks the album doesn't appear to have had much 'studio work' done to it and is a pretty good representation of the band's live show.
Combining a modern grungey sound with elements country, funk, soul and even jazz, the highlights are numerous. Tracks like 'Shake Me Like A Monkey', 'Funny The Way It Is', '#41','Why I Am', 'Alligator Pie' and 'Gravedigger' are all recommended listening.
Bands can only obtain international success if they build up a large fan base and it is obvious listening to 'Lucca, Italy' exactly how the Dave Matthews Band have managed to do that over the years.
Also being released is the bands 'Brixton' DVD filmed in June 2009.
****
Review by Nikk Gunns
---
| | |
| --- | --- |
| | Print this page in printer-friendly format |
| | |