DANNY AND THE CHAMPIONS OF THE WORLD Hearts & Arrows So Records (2011)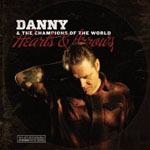 With only a subtle added 's' onto Champion to distinguish the band from the Roald Dahl 1970's children story, Danny Wilson's band received a fair amount of critical acclaim from the mainstream media with their last album Streets Of Our Time (2010).
Their sound is something of a surprise (to me at least) in that, with the Roald Dahl connection, you might expect something very British/European and quirky. Nothing of the sort, the band specialise in the New Jersey Americana street music of The Boss.
It comes as no surprise therefore, to find that Danny has, in the past, contributed to a Springsteen tribute EP, because there's very little on Hearts & Arrows that doesn't borrow heavily on the song construction, and vocal delivery of the main man and the E Street Band.
Except, Danny is no Springsteen in the vocal department (more Nils Lofgren (and one wonders whether the mournful Too Tough To Cry is a subtle nod in that direction?)) and the Champions, replete with sax, are no E Street Band.
That's not to say Hearts & Arrows doesn't have some pretty good songs and the delivery is pretty good too, but it's impossible to stop yourself trying to spot snippets of Springsteen songs here, there and everywhere. And listenable as it is, I can't think of one good reason why you wouldn't reach for Springsteen's back catalogue instead.
And that's a shame because Hearts & Arrows is, fundamentally, a pretty decent album. But Danny And The Champions need to find a sound of their own.
***
Review by Pete Whalley
---
| | |
| --- | --- |
| | Print this page in printer-friendly format |
| | |