Just witnessed your best live gig?.. send us a review!
CHRISTOPHER CROSS Bloomsbury Theatre
7 November 2011
Call it soft rock, Adult Contemporary or even the more recently coined Yacht Rock, but the late seventies and early eighties saw some great mellow, yet musicianly and soulful sounds.
The West Coast was the spiritual home of much of this stuff, yet it was a Texan, Christopher Cross who emerged from obscurity to be one of the biggest, Grammy winning artists in the genre with a multi million selling debut album.
By the middle of the eighties, his hit making period was over as musical fashions changed and I must admit I had no idea he was still musically active until this rare London theatre date.
Stocky and in grey suit and hat, he comes over as an unassuming character, allowing all his band to take the stage first and introducing them while, after a series of technical hitches earlier, I sensed he was forced to ad lib longer than he wished as he tuned up a series of guitars.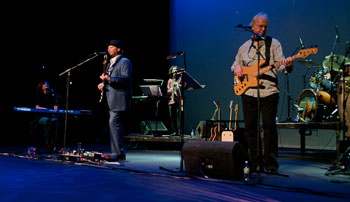 Zoom (Click large image to cancel)
His voice is still crystal clear, reminding me of Peter Cetera or a better preserved Elton John, and he can still slip with ease into a falsetto, which combined with the high harmonies of keyboard player Kiki Ebsen and bassist Chazz Frichtel to create a soaring sound.
The band were tight and favoured by an excellent sound but special mention must go to Andy Suzuki whose playing on a variety of saxophones was a key part of the overall sound, especially on songs like Never Be The Same. Indeed I reckoned sax solos outnumbered guitar solos by about four to one, although Christopher showed himself to be a fine lead guitarist when the occasion demanded.
After a lively opener in 'All Right' and his tribute to Steely Dan influences in 'Deputy Dan', 'Hey Kid' was the first of many songs from his new 'Doctor Faith' album, his first of all new material in over a decade.
Many of them were quite impressive, notably 'I'm Too Old For This', which saw him in surprisingly acid grumpy old man mode and which reminded me of Glenn Frey, 'Dreamers' with two keyboards doubling up, 'Leave It To Me', and the sparse arrangements of 'November'.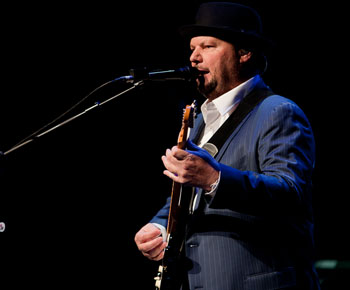 Zoom (Click large image to cancel)
However it was the oldies that the exclusively middle-aged audience wanted to hear, such as 'Sailing', which some see as the signature of the 'yacht rock' movement, 'Think of Laura' and 'I Really Don't Know Anymore'.
However, while I expected this to be a mellow evening, the pace, which had begun at quite a lively tempo, progressively dropped noticeably with a series of slow songs.
There were still some gems with the harmonies on 'In The Blink Of An Eye' worthy of Crosby Stills and Nash or Simon and Garfunkel, but some of the other songs were almost soporific, while 'Does It Feel Like Christmas' confirmed my prejudices that, other than Slade, no one has managed to write a Christmas song that doesn't sound schmaltzy.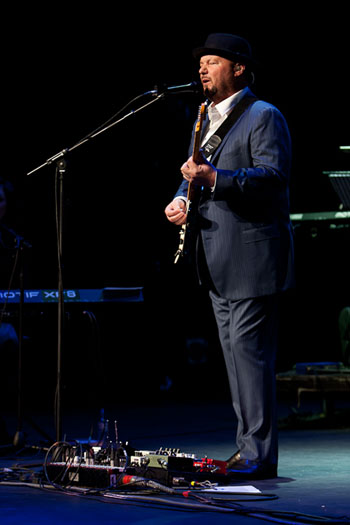 Thankfully, momentum was restored in the last part of the set as Christopher paid tribute to the acting and piano skills of Dudley Moore - as well as having a pop at the remake, to universal applause! - before playing his big UK hit 'Arthur's Song', followed by a lively 'Ride Like The Wind'. That even persuaded a few people in front of me to stand up and 'Dad Dance' , though subconsciously I kept expecting the band to emulate the bombast of Saxon's cover version!
That had seemed the most obvious note on which to end, but they were warmly applauded back for an enjoyable encore of the slightly calypso flavoured 'Say You'll Be Mine'.
At 2 hours and 15 minutes, he and his talented band provided excellent value for money, and, even if the set did sag in places, this was an evening to prove that Christopher Cross can be taken out of the 'whatever happened to' file and still has much to offer lovers of the more chilled out side of rock.


Review by Andy Nathan
Photos by David Tickle www.255Photography.com
---