Just witnessed your best live gig?.. send us a review!
CHANTEL MCGREGOR
100 Club, London, 27 March 2011
Photos by Noel Buckley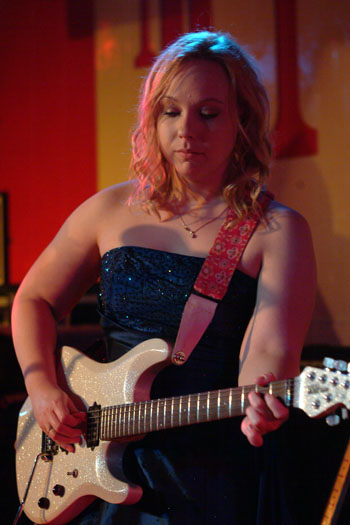 For the last few years Bradford lass Chantel McGregor has been stunning audiences with her own sonic tapestries from heaven from the clubs and bars 'oop North to the Blues festival circuit across the land. I first saw McGregor last year at the Skegness Rock & Blues Festival and was gobsmacked by her ability to bend out every note known to mankind whilst keeping an effortless gentle character about herself.
Word has reached the capital and McGregor is here to tread on the famous boards of the 100 Club. It seems that the demons were out for McGregor in an attempt to prevent her from playing here. A date originally scheduled just before Christmas was postponed not because Chantel and her band couldn't get down the M1 because of the snow, but because the 100 Club staff couldn't get in due to the London transport system crawling in the white stuff.
Tonight, there's another factor that could've prevented the gig from going ahead. Outside in the surrounding area of Oxford Street, Regent Street and Piccadilly Circus, the roads are blocked off to traffic as the police do their best to control the students and rioters protesting against the Government spending cuts.
Luckily Chantel McGregor posted on her Facebook page that she was in the 100 Club for a soundcheck and if the girl can make it, then there's no excuse for my photographer Buckers and myself to get off our sorry backsides and do our best not to look like rioters and make our way into the West End, meeting at the Crobar for a little stiffner.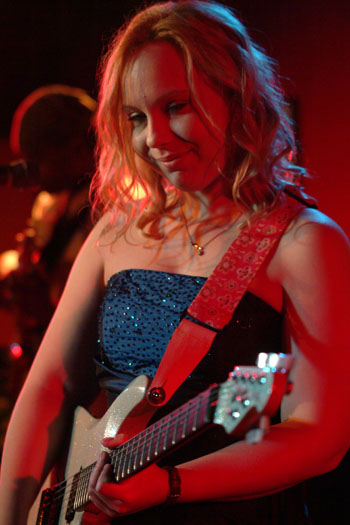 Chantel McGregor enters the stage looking elegant in a long blue evening dress accompanied by her John Petrucci guitar and gently rips into a set of covers and her own original composistions. First number is a take on Joe Bonamassa's 'Bridge To Better Days', a heavy grinding number which also featured a 'Kashmir/Perfect Strangers' riff thrown in for good measure. A perfect way to start.
McGregor has a unique ability to make covers her own with her signature guitar sound. This is totally evident on Jethro Tull's 'A New Day Yesterday' which starts with a heavy funky bass line from new boy Richard Ritchie which leads into a blistering solo from McGregor. Even a hardcore Tull fan wouldn't immediately recognise this song when performed by the band.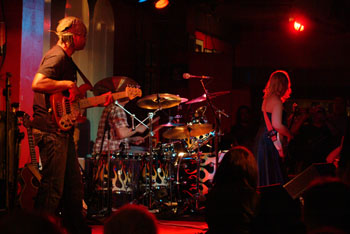 Zoom (Click large image to cancel)
With her debut about to be released, we got the title track 'Like No Other', the first tonight pencilled by our princess of the blues, although this track is more in the AOR territory. The future bodes well for the songwriter by which she will be eventually be judged in the future.
Digging deep into the blues with Sonny Boy Williamson's 'Help Me' was a swinging joy delivered with so much conviction on the vocals. Her own guitar hero is former Poison/Mr Big guitarist Richie Kotzen, who like Bonamassa has warmed to McGregor and has been an instrumental help to the girl. A version of Kotzen's solo track 'High' was a cigarette lighter in the air moment.
Her own 'Fabulous' was one of my personal favourites tonight, a big swirling riff to it that goes round and round and is almost danceable, the track is simply fabulous. Followed by the Texas flood of Stevie Ray Vaughan's 'Lenny' which showcased McGregor's more tranquil moments was mesmerizing.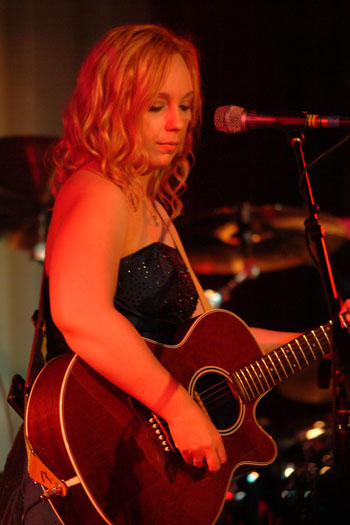 Halfway through another great number of her own 'Free Falling', disaster struck as her amp packed in and had our heroine crying out ''Dad!...Can you come up here please and sort this out.'' which raised lighthearted smiles all round, but when you're as talented as McGregor this isn't a problem as the girl simply picked up an acoustic and carried on with the song.
Looking flustered and not knowing exactly what to do whilst the amp gremlins got fixed it was time to rip up the set list and ask for requests. Fleetwood Mac's 'Rhiannon was a delight to hear in it's acoustic form. A gentlemen in front of me shouts for 'All Along The Watchtower' Hendrix style - no problem. The self written instrumental 'Cat Song' would make Jimmy Page proud.
Once electricity was restored the band were firing on all cylinders yet again with 'Caught Out' which has a mean driving riff followed by Joe Satriani's 'Up In The Sky', the closest to whom McGregor can be compared.
The night ended with Bonamassa's version of Blind Faith's 'Had To Cry Today' which rocketed into 'Starship Trooper' the Yes track.
Once again Chantel McGregor delivered a mind blowing performance which was jaw dropping. The jury will be out when her debut is released, but I'm sure she will soon be the darling of Radio 2 as well as right here on http://www.getreadytorockradio.com, but in the live situation the girl can do no wrong. Seeing is believing.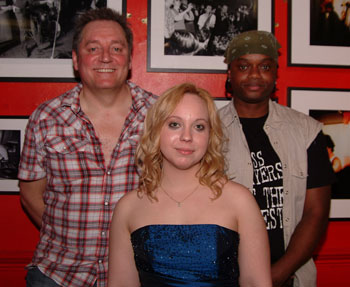 Set list: Bridge To Better Days / A New Day Yesterday / Like No Other / Help Me / High / Fabulous / Lenny / Free Falling / I'm No Good For You / Rhiannon / All Along The Watchtower / Cat Song / Caught Out / Up In The Sky / Mountain Time / Had To Cry Today

Review by Mark Taylor
Photos by Noel Buckley
---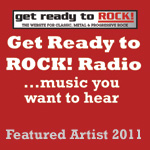 Chantel McGregor's debut album is released in April.
Chantel is our Featured Artist in August and plays Cambridge Rock Festival, Saturday 6 August.
---