CARL PALMER Working Live - Volume 3 (2011)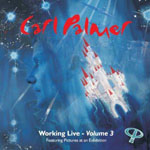 Carl Palmer's 'Working Live - Vol 3' is arguably a step to far. From the rudimentary artwork to the limited info and the all too obvious covers it begs the question just how much can you milk a golden cow?
In this case it's the ELP back catalogue and for all of Carl's boyish enthusiasm in 'wanting to record so many classical melodies from my past career' and 'being grateful for having the gift to play', it's a shame he doesn't extend his considerable abilities to exploring something new.
Not only that, with the recent Keith Emerson 'Moscow' release also covering 'Bitches Crystal' and 'Nutrocker' and his studio demo of 'Pictures of an Exhibition' from 'Off the Shelf' this represents ELP overkill.
Throw in the very obvious heavy metal version of Henry Mancini's 'Peter Gunn' and an elongated drum solo and you can see the obvious problems with this project. On top of that Carl states 'you get what we played on the night', but surely this album contains some of the worst dubbed audience noises I've ever heard.
But let's concentrate on the better moments. Truth be told the best track of the lot is when Carl explores the full possibilities of his kit on the closing 'In a Moroccan Market' which must be the first drum solo to act as a mellow antidote to what goes before.
He sets off with a consistent galloping rhythm punctuated by a mix of rolls, cymbal splashes and latterly some quite delicate percussion work, in a wonderful confirmation of his art.
For the rest, the dirgy metal riffs of 'Romeo and Juliet' are simply too unrelenting and lacking in emotion, while the stop-start tableau of 'Pictures at an Exhibition' is an exercise in complex band interplay as the trio sets themselves a series of musical puzzles and little tensions that they cleverly resolve with sheer technique and moments of unrestrained swagger.
Doubtless ELP fans will pour over the guitar parts and the de facto re reading of Emerson's original keyboard input. But for the rest of us there's too much horrible rumbling, growling synth noises and too much clutter.
Being a top calibre drummer, Carl naturally shapes the piece with a series of rolls, crisp cymbal work and rhythmic dexterity, but it all comes terribly close to being technically proficient but cold jazz.
Both bass player Stuart Clayton and guitarist Paul Bielatowicz stick manfully to their task with a series of stop start runs, but the guitar tone is too shrill and unrelenting to be anything other than unrelenting shredding.
'Bitches Crystal' works better with its almost waltz time feel which underpins the band's pounding intensity and the spiraling guitar lines. And the overall heaviness of the two preceding tracks makes the lightweight version of 'Nutrocker' all the more curious and the shrill guitar tone and the pounding drums make strange bedfellows.
'Working Live - Volume3' will doubtless find a home with ELP completists but for the rest of us, outside of the dazzling technique it offers little beyond what we would expect of an ELP offshoot. Not so much old wine in new bottles as a tired vintage.
***
Review by Pete Feenstra
---
| | |
| --- | --- |
| | Print this page in printer-friendly format |
| | |