Just witnessed your best live gig?.. send us a review!
BRYAN ADAMS
O2 Arena, London 8 December 2011
Back in the eighties and early nineties, Bryan Adams ranked alongside Bon Jovi and Def Leppard as my favourite contemporary acts, as one of the few acts able to marry top 40 hits with rock credibility.
With the passion of a Springsteen but more accessible songs delivered in slightly raspy tones, he was the short haired guy it was OK for rockers to like, and his live shows were something special, ranging from a couple of Wembley Stadium shows to a memorable secret gig at the Marquee in 1987 when his grey T-shirt dripped with sweat after the first two numbers.
However, after his endless No 1, the dreary Everything I Do (I Do It For You), subsequent releases veered into ballad territory and, with the housewife type demographic forming an ever bigger part of his audience, after 1997 I decided his live shows were no longer for me. Subsequent indignities, such as duetting with a Spice Girl and with a dance act on another No 1 hit, only turned me away from the craggy faced Canuck even further.
However my curiosity as to whether the kid still wanted to rock eventually got the better of me, especially when his arena tour was billed as celebrating the 20th anniversary of his last satisfying album Waking up the Neighbours. His hit making days are over and yet the cavernous 02 hosted a near full house.
---
Clad in black, as were the whole band, and sporting a very severe, swept back short back and sides, he came on stage in a low key fashion looking as if he had stepped out of the Mad Men advertising office.
---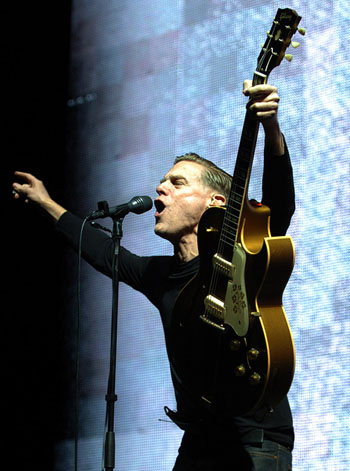 Clad in black, as were the whole band, and sporting a very severe, swept back short back and sides, he came on stage in a low key fashion looking as if he had stepped out of the Mad Men advertising office. Indeed with plain lights and a generally black and white large video screen behind, the whole set up had a monochrome, almost retro feel to it.
With an unassuming, gimmick-free main man, a rather nondescript band and minimalist set, the music was very much left to speak for itself and if nothing else the gig was a reminder of Bryan's ability to pen memorable tunes (although interestingly his last two studio albums were ignored completely, so I had wasted my effort reminding myself of them in the run up to the gig!)
'House Arrest', the first of ten songs from 'Waking Up The Neighbours' that were dotted around the set, and 'Somebody' were great up tempo openers, although the sound was rather too polite for my tastes, while 'Here I Am' was a surprisingly good pop rocker with a more contemporary, almost Keith Urban country style feel.
Among the 'Neighbours' songs, 'Can't Stop This Thing We Started' was the first to really get those in the seats to their feet, and the laid back sounds of 'Depend On Me' one of the pleasant surprises of the night, but the ballad 'Thought I'd Died and Gone to Heaven' had an oddly telegraphed, passionless feel.
At their best with crisp power chords of Bryan and Keith Scott, supported by the Hammond B3 of Gary Breit, the band conveyed the essence of heartland North American rock.
Keith is very much Bryan's onstage foil and as well as being no mean guitarist is something of a showman, as the two ran from one side of the stage to the other during 'Hearts On Fire', and on both that and 'It's Only Love' he was allowed to stretch out and play some very angular solos that reminded me of Nils Lofgren with the E Street Band.
The advantage of such a familiar set list was the ease with which crowd singalongs were generated to the likes of 'Back To You', the irrepressibly dumb '18 Till I Die', 'Cuts Like A Knife' and 'The Only Thing That Looks Good On Me is You' while 'Heaven', though not an exact copy of the studio version, remains one of the great ballads.
The pacing of the set could be questioned, although you could argue it was a sign of the strength of his material that such cornerstones as the evergreen 'Summer of 69', also rearranged with the pace taken down in an extended middle section and Keith allowed to stretch out again, and 'Everything I Do', when I could hear numerous female voices singing around me, were dropped into the middle of the set rather than saved for encores.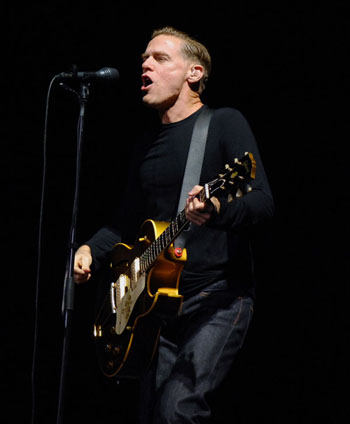 Inevitably, with 27 songs crammed into 2 ¼ hours, not all of them hit the mark. A couple of 'Neighbours' tracks were delivered acoustically, with all but Bryan playing percussion, but the otherwise excellent Mickey Curry's solo slot with pots and pans was the sort of thing that I used to watch as a child on Play Away on a Saturday teatime. Then I found it ironic that the dreary 'Cloud No 9' got one of the best reactions of the night with people swaying even in the upper tiers.
In a break from the tradition of a girl being plucked from the crowd to duet on 'When You're Gone', we had an auction winner, who greatly amused the crowd with his falsetto singing. Of Far Eastern descent, with his glasses and camp manner he had the air of a famous TV fashion stylist - 'When You're Gok Wan' perhaps?
'Run To You' and the final 'Neighbours' song, 'There Will Never Be Another Tonight', brought the set to a rocking end, and yet they seemed lighter than I remembered them with the power chords lamer than in the past.
The band left the stage but Bryan stayed to pick up an acoustic, and sing the 'Way You Make Me Feel', 'Straight From The Heart' and 'All For Love'. All are simple songs with simple messages that it would be easy to sniff at, but they succeeded in carrying in a huge arena. But I fully expected the band to come back, so as the lights went up and the banal twitter feed was beamed up again, the gig ended with a slight sense of anti climax.
So to the $64,000 dollar questions, does the kid still wanna rock? In general, yes, although not as hard as he used to, and it was a show well worth seeing to remind me of the strength of his back catalogue. And would I go again? Well, if he promised to go back and play the whole of 'Reckless', now we could be talking.


Review by Andy Nathan
Photos by Steve Goudie
---