Just witnessed your best live gig?.. send us a review!
BRIAN MAY/KERRY ELLIS 'Anthems'
Philharmonic Hall, Liverpool 3 May 2011
Photos by Steve Goudie
Brian May has never put a foot wrong in his illustrious career but was this that moment when he joined forces with a pop singer and West End actress, Kerry Ellis? But wait. Queen heartily embraced pop and added bells and whistles. So my stubborn prejudices were put aside at the door of The Phil.

An intelligent guy with a doctorate in astronomy and Chancellor of Liverpool John Moores University, Professor May is still using his telescope deftly to spot the pulsars. And so it was appropriate that the UK tour began in Liverpool in an art deco haven with perfect acoustics for choirs and orchestras.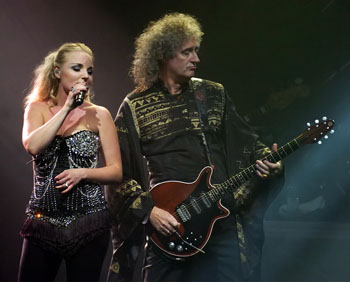 Zoom (Click large image to cancel)
I mean you could never see a guy like May hanging with the boys in some club with a fag hanging from his gob in his latter years could you?
This is the King of Pomp and Circumstance operating in a country that invented it. Commercially it all makes perfect sense. Vintage wine and nouveau cuisine on a menu to die for.

The evening began though with an uplifting set from Vintage Trouble which were like a cross between Dr Feelgood and a young James Brown, featuring the remarkable vocal (and dancing) talents of Ty Taylor.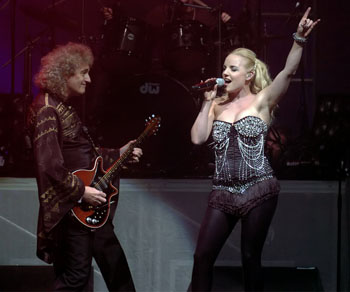 Zoom (Click large image to cancel)
The generous lightshow and dry ice sprung into action and soon we were under way with 'Dangerland' a pompous stomper in the 'Kashmir' and 'Perfect Strangers' category. Ellis eased into her berth with the ease of a seasoned professional, while the inevitable cheers accompanied May's arrival.

The set began as a platform for the Kerry Ellis and May produced album from which some finely crafted songs have emerged. Two of them are Queen covers and I must say that May's 'Only the Good Die Young.' featuring May on his own on acoustic and vocals was a highly moving moment. Originally written as a lament to Freddie Mercury it was dedicated to all of us who have lost loved ones before their time.

May has an uncanny knack of spotting a melody and adding just enough of the trademark guitar and string arrangements to make the whole thing tug at our emotions whether they be happy or sad.
While many of us rockers are waiting for that screaming solo from a master craftsman of our genre, we are missing the point that the reason why Queen's song have lasted so well is that they have melody. They have charm. They uplift us. They are timeless.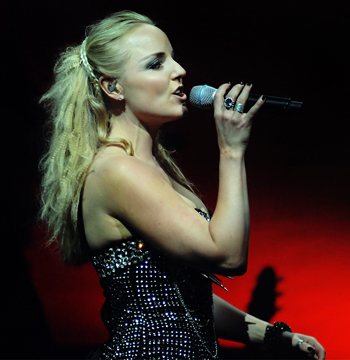 Take 'Somebody to Love' or 'Save Me' for example. Sung beautifully by Kerry Ellis, you have to experience them live to be moved. Who hasn't looked for love or redemption at some point in life? Looking around the packed auditorium there were grannies with arms aloft and young lovers singing all the choruses together. The Royal Wedding all over again!

I was expecting some more well known anthems like 'Diamonds are Forever' which incidentally consisted of a smart arrangement by May, extra lyrics from Don Black and a vocal lesson from Kerry Ellis who nailed the Bassey dramatics and added a few octaves of her own.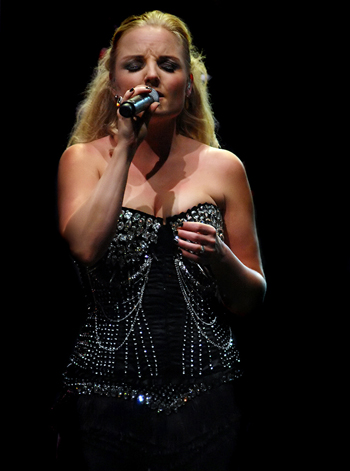 The set though mainly consisted of best known Queen covers like 'We are the Champions' and showpiece songs from the Kerry Ellis album.
If this project is to have legs, I would take the Anthems theme to its nth degree and add songs like 'Jerusalem' to the mix. Not since ELP strangled it has it, to my knowledge, been handled properly by a rock icon.

When the strains of 'Tie Your Mother Down' had subsided, it was clear that the locals had given the thumbs up.
If you are looking for a night out with the missus or mum's birthday, this is THE ONE guys. The stars are aligned. Wallets akimbo.

Review by Keith Thompson
Photos by Steve Goudie
GRTR! Reader Helen Campbell writes:
I met Brian May with my husband and friends before the show at Gateshead and he is such a nice person. We had photo's before the show and he brought Kerry into his dressing room to meet us. The night was magical.
The show was magnificent, so much so that my friend and I went travelled for 2 and half hours to see it all again. I still can't listen to Only The Good Die Young without crying as she put so much emotion into her singing ! After an awful year I have never felt this good. Thank you to both of you you are AMAZING !!!!!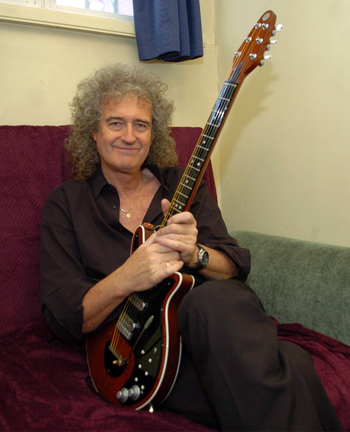 ---