Just witnessed your best live gig?.. send us a review!
BLACK COUNTRY COMMUNION
Venue Cymru, Llandudno, 23 July 2011
On the day Amy Winehouse finally left her fans in tears, there were four stalwarts on stage for whom it was a particular joy to behold namely Pete Way, Michael Schenker, Jason Bonham and of course Glenn Hughes.
For me the lump in the throat came when Pete Way took over on bass duties for Michael Schenker. What a moment! The last I'd heard Pete was in a bad way in hospital and yet here he was in his customary stripey strides and performing like a 20 something with his old mucka, Michael.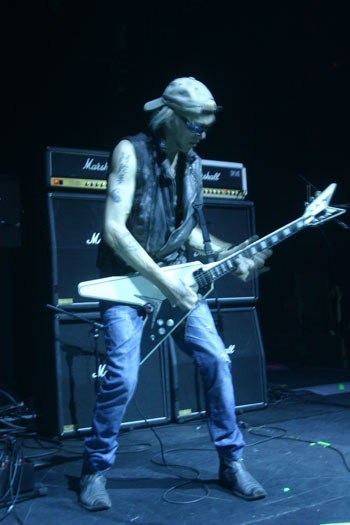 With Michael Voss on vocals this was a supergroup in its own right and well done to the promoters for packaging this so appropriately.
Highlights were 'Armed and Ready,' The Scorp's 'Another Piece of Meat,' 'Rock Bottom' with some beautiful guitar passages from MS and of course the life enhancing rendition of 'Doctor Doctor'. It's moments like this that confirm that rock still raises the goose bumps.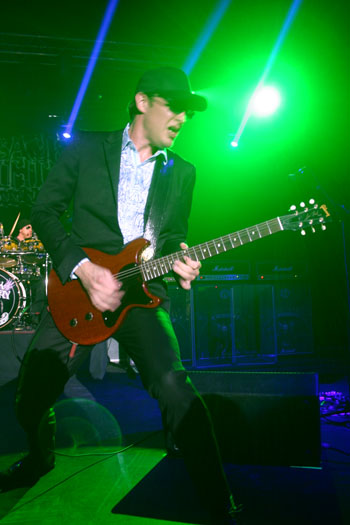 The 1200 or so souls at Venue Cymru on this balmy evening seemed to agree with me. Black Country Communion have, even now, stood the test of time and tension that has befallen the super groups of yesteryear. And you know why? Camaraderie.
The body language on stage was compliant, respectful and not short of humour. Joe Bonamassa taught Glenn Hughes how to pronounce 'Cymru' and Jason Bonham stood up and said "and he's from America" to Glenn's smiling retort of "never give a drummer a mic."
This teamwork also transcends into the music with notable examples such as 'Save Me' off BCC 2 which we are told was written by Jason Bonham four years ago but finished off in January by BCC.
---
...the objective seems to be to ... work some new material which nods at the past but also melds some some fancy interiors onto the old stately home.

---
The set was predominantly composed of material from the critically acclaimed BCC 2 album which to my mind cemented the band's place in rock's Parthenon.
And yet it was the epic, 'Song of Yesterday' and the opener 'Black Country' which have since December become firmly entrenched as firm fan favourites.
Back catalogue? Strangely this didn't come until the encore with a closing rendition of 'Burn.' I must admit that when the band was first announced I thought live they might have traded more off some Zeppelin and Purple covers.
But the objective seems to be to use the traditions from those bands and work some new material which nods at the past but also melds some some fancy interiors onto the old stately home.
Instead of songs like 'Moby Dick' and 'Four Sticks,' we got Joe Bonamassa's own 'The Ballad of John Henry' which in itself has become a modern classic. This is a bold decision which seems to drive the band creatively to pastures new.
This essentially is a band of songwriters who have got together to... write new songs. We as fans should realise that's the way it's going to be. I did love the harking back to Billy Cobham's 'Spectrum' and the touching tribute to Tommy Bolin during 'John Henry.' Trainspotters and anoraks take note if you are catching a future gig on the tour.
---
...the whole occasion was an affirmation of the great things that our genre can do for us. On a day when yet another icon fell foul to the evils of drink and drugs, the irony wasn't lost on me as I looked out at the floodlight shining on the ancient rock of Llandudno's coast line after exiting this excellent venue.

---
Visually the band get around with Joe Bonamassa taking on a lounge lizard garb these days, reminiscent of Rick Nelson from Cheap Trick. Vocally too the two front men work well with a similar register but with Bonamassa's rounded bluesy accent buzzing off the trademark falsetto of Mr. Hughes.
My only slight niggle was that I felt the audience might have wanted one more rocker or an anthem from one of the back catalogues perhaps from days of yore. Or could an unashamed anthem be written from scratch?
This is not a gripe but simply an observation. Songs like 'Sista Jane' which ended the set was the closest the band have to a signature crowd pleaser. Perhaps 'Man in the Middle' will do it long term. There's the rub. BCC are consistently vowing to entertain for years to come and we say amen to that.
In essence, the whole occasion was an affirmation of the great things that our genre can do for us. On a day when yet another icon fell foul to the evils of drink and drugs, the irony wasn't lost on me as I looked out at the floodlight shining on the ancient rock of Llandudno's coast line after exiting this excellent venue.


Review and photos by Keith Thompson
---
---