BILL WYMAN'S RHYTHM KINGS Live Communication Repertoire (2011)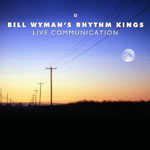 Musically speaking, Bill Wyman has taken over from where the late Alexis Korner's Rocket 88 left off, that is by fronting a touring big band with horns and dedicating himself to playing classic blues, r&b and rock and roll.
'Live Communication' works hard to showcase the band at its best in front of a theatre crowd, with a set that has enough pulsating moments to earn a hard won victory over that uncertain divide that sometimes separates a hard working band and a laid back theatre crowd.
You could of course argue about the choice of material, but for every potential murmur of discontent regarding an obvious cover there's a sterling individual performance to make the most of the moment. And all the while bass player Bill Wyman and The Moody Blues drummer Graham Broad hold down the bottom end with aplomb.
This album might have been better recorded in the environment of an intimate club, but given the circumstances it's a triumph of rocking roots music in the most capable of hands. The only real gripe is the lack of informative track listings and in particular info about who sings and plays what.
Sometimes you have to strain to hear a distant end of song announcement to ascertain the info, otherwise it's a process of elimination to work out that its Albert Lee's scintillating guitar picking on 'Show Me' or Dennis Locorriere's powerful rendition of Randy Newman's 'Louisiana 1927'.
All in all, there's plenty of good stuff on offer, especially the Dennis Locorriere and Beverley Skeete funky duet on 'Harlem Shuffle', while the band swings on the pounding shuffle 'Too Late'. Frank Mead add some essential wailing harp, though of course you'd never know but for another distant belated announcement to that effect
'Live Communication' is in effect a celebration Bill Wyman's love of the blues and its related music and clearly his musical pals share his passion. Beverly Skeete sets the standard on the rip-roaring opener 'She's Looking Good', complete with a kicking horn arrangement and she brings real presence to bear on a disciplined arrangement of 'Drown In My Own Tears'.
In between the two, there's the percussive groove of 'Unchain My Heart' on which Dennis adds a gritty impassioned phrasing over some potent call & response vocals, soaring saxes and a samba percussive beat. Geraint Watkins accordion leads on Clifton Chenier's 'All Night Long' - which could have done with a stronger lead vocal – and he later returns to resurrects his unique Balham Alligators arrangement of 'Johnny B Goode' to great effect, with accompanying staccato piano runs and pumping horns on a number that swings and segues into an unlikely jump jazz arrangement.
Beverley excels on the up tempo reading of 'I Don't Need No Doctor' which gains its impetus from some bullish call & response vocals although the guitar solo and horn bursts are well back in the mix. And having explored the outer fringes of blues and r&b, Albert Lee leads the band into a mix of rock and roll, country and some lightning runs on The Coasters 'That Is Rock & Roll' and he further duets thrillingly with Beverley on the superb closing ballad 'Crying In The Rain'.
It's a perfect distillation of the versatility of both performers and band, leaving you only to wonder why they couldn't include a well deserved encore to top and tail an excellent 'Live Communication'.
****
Review by Pete Feenstra
---
| | |
| --- | --- |
| | Print this page in printer-friendly format |
| | |