Just witnessed your best live gig?.. send us a review!
BIG COUNTRY Shepherd's Bush Empire, London
15 April 2011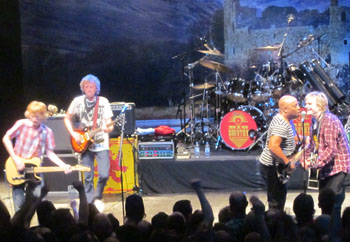 Big Country were back in London for their second gig in just over four months and had moved up to the bigger Empire, after previously selling out the Islington Academy. I last saw the band back in 1986 at the Victoria Hall, proudly bopping around the gig in check lumberjack style shirt, many of which were evidence tonight in a mainly male crowd who, bar a few, would have all seen the band back in their 80's peak.

But before the main event we had two supports. The youngsters Station Parade played an enjoyable set of indie rock and the female vocalist in a bikini top was certainly catching the attention of the crowd. Full marks to the guitarist stage left who was in a wibbly wobbly world of his own throwing shapes all over the place.

Mike Marlin was on next, looking slightly like the guy out of the Eels. The music had good melodies and the band were joined by a sax and trumpet player for the London gig only. The set was rounded off with a very different version of the Bee Gee's disco classic 'Stayin' Alive'. Better than the original! Definitely an artist I will be tracking down for more music.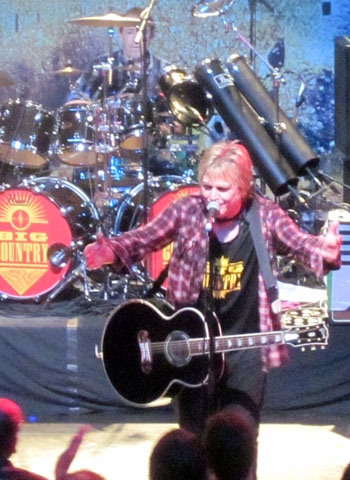 Big Country now comprise of the original trio of guitarist Bruce Watson, bassist Tony Butler and drummer Mark Brzezicki, who are joined by Bruce's son Jamie on guitar and the Alarm's Mike Peters on vocals.
The latter is an inspired choice, as throughout the show he makes fitting tributes to the late Stuart Adamson. Also vocally he nails the Big Country songs spot on and his on stage presence and sheer enthusiasm for the songs really shines through.
Needless to say the crowd are on the band's side from the first song '1,000 Stars' right through to the set's closing number 'In A Big Country'.

Highlights? The whole damn show! 'The Teacher' and 'Look Away' drove the crowd wild as you'd expect, in fact the bopping/mosh at the front didn't stop all night apart from when Mike Peters walked through the audience.
It is a non-stop show with the only stops for tribute to Stuart Adamson and a passionate appeal from Mike Peters for the charity he supports, Love Hope Strength, who help various cancer charities.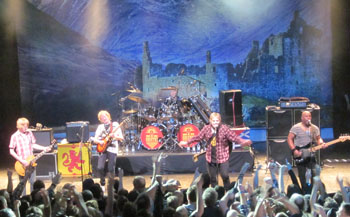 Zoom (Click large image to cancel)
'Wonderland' and 'Fields Of Fire' closed the show, both a good chance for Bruce Watson to show his guitar skills and also his son Jamie, who is like a Mini Me of his dad.

'Lost Patrol' and the simply wonderful 'Chance' were the first encores and given that the crowd carried on singing the chours of 'Chance' when the band left you knew they would be back for more. To close the show 'Restless Natives' and 'In A Big Country' which was a very fitting way to close the show.

They have a few more dates left on this tour and three more in June including the Isle Of Wight festival. Do yourself a favour and go see them, a truly memorable live band providing a fitting tribute and keeping alive, the music of Stuart Adamson and Big Country.


Review by Jason Ritchie
Photos by John Adams
---