Just witnessed your best live gig?.. send us a review!
BETH HART, Dingwalls, London 29 November 2011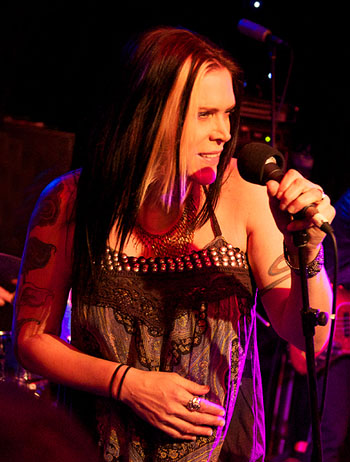 Much like the curate's egg this gig was good in parts. On a night of high expectation and occasional inspiration, Beth Hart shone on the material from her new soul album, but in spite of some spine tingling moments the show never quite fulfilled its full potential.
The set list that probably looked good on paper didn't seem to take into account her own animated performance which takes as much out of the audience as the performer herself. The end result was an occasional dynamic void and probably one too many ballads.
Perhaps the night mirrored Beth own shift in focus from being a confessional singer songwriter to an interpretive soul singer. And tonight's show played out to a sizeable and enthusiastic crowd occasionally seemed to reflect the unsteady career step.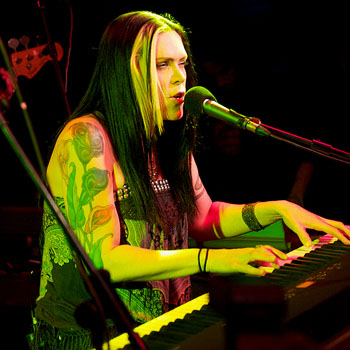 There was nothing wrong with her magnificent voice or indeed her ability to derive real emotional moments via eloquent phrasing and a clever mic technique, both of which reached their apogee in a set defining version of Etta James's 'I'd Rather Go Blind'.
But given her natural spontaneity there was a curious lack of ebb and flow to the set. And while Beth Hart is an expressive performer and a vivacious physical presence who feeds off her audience - her repeated question 'How ya feeling' was a typical locking in device to meld performer and band - the set sometimes felt disjointed.
Perhaps it was simply down to her contrasting roles as a piano playing singer songwriter and a full on rock singer who stood up for the bigger arrangements.
Then there was the curious perfunctory end to the show before she came back for an encore that lasted over half an hour and had the feel of a different set rather than a natural climax to the evening.
---
...you never go to a Beth Hart gig without being swept up by her emotional conviction, intrinsic drive and natural exuberance.

---
This feeling was exacerbated by her unexpected re-appearance by which time some people had already drifted off. And finally there was her band, which in spite of the excellent drummer Tod Wolf - who gave the dynamic band arrangements real heft - were for the most part functional without bringing feel or colour to match her startling vibrato.

All that said, you never go to a Beth Hart gig without being swept up by her emotional conviction, intrinsic drive and natural exuberance.
It's a style that draws heavily on her colourful past to define her current standing as one of the leading female roots rockers. And in that respect her choice of soul covers on the 'Don't Explain' collaboration with Joe Bonamassa is well chosen. But having achieved new found success with her own material, she's now faced with the next step of how to make a coherent whole of the two apparent separate parts.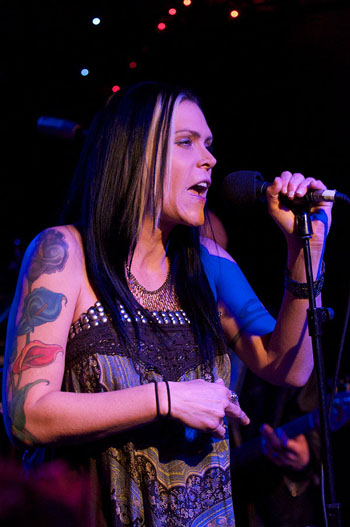 In the event she started in piano led, singer songwriter mode for the emotionally wrought 'Leave The Light On' and the tightly wrapped 'Good As It Gets', before dipping into the new album with the country tinged 'Well Well'. This strident cover of the Delaney Bramlett song proved to be the litmus test for the evening. It opened with a pounding drum pattern, strong band harmonies, a chunky guitar figure and a blast of fierce scat singing from Beth.
'Your Heart Is Black As Night' was another highlight with some sensual phrasing and subtle use of her vibrato to nuance real feel. She was equally good on 'I'll Take Care Of You' with some lovely elongated vowels and an aching vocal that evoked both vulnerability and self assertiveness in one line.
And finally after the strangest segue of encores which started with a horrible rumble and a short drum solo in a nondescript rocker, the extended encore found a belated resolution with the show stopping 'I'd Rather Go Blind'.
Always looking for an emotional connection with a song, Beth reinterpreted the Etta James classic in the context of her absent father during childhood and it proved to be mesmerising evidence of her ability both as a singer and performer.
If only the rest of the evening had been similarly concise. As it was, she came, she saw and offered fleeting glimpses of her true soulful vocation, of which there's surely more to come.


Review by Pete Feenstra
Photos by Bob Singleton
Gig review (Leamington)
---