BARBARA RUBIN Under The Ice (2011)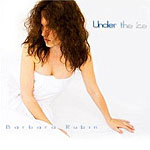 Barbara Rubin is an Italian musician, singer, violinist, keyboard player and songwriter. A classically trained violinist she developed a love for rock in parallel with her studies, culminating in Under the Ice - a project that successfully mixes the best elements of both genres.
It's a blend that's difficult to pigeon hole shifting from quirky Kate Bush style piano pieces (echoes of Under Ice, from Hounds Of Love), through Euro (although I wouldn't go quite so far to add 'vision'), proggy, semi classical breaks, to almost symphonic rock. Well, perhaps symphonic rock 'lite'.
But the pièce de résistance is when the gloves come off on the centerpiece of the album - Liar. Starting with swirling proggy keyboard lines before a huge riff kicks in, it's a showcase for some kick ass vocals. It's the most overtly rock track on the album and one should that have widespread appeal for fans of female fronted rock.
Another track worth singling out is No More Tears that brings to mind Journey style classic rock. It suggests that perhaps Barbara's talents would be best served, from a rock perspective, in this more melodic region of the rock spectrum.
Aside from this 'solo' project Barbara also fronts up an altogether more extreme Italian progressive metal band in the form of LoreweaveR. But from the evidence presented by Under The Ice, her solo career has much to offer.
***½
Review by Pete Whalley
---
| | |
| --- | --- |
| | Print this page in printer-friendly format |
| | |