AXEL RUDI PELL Ballads IV SPV Records (2011)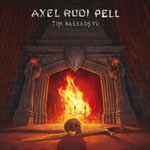 Virtuoso guitarist Axel Rudi Pell is back this time with another ballads album, his fourth surprisingly, coming 7 years after his last ballads outing.
The album is a mix of his own compositions culled from his last few albums and various cover versions, two of which were recorded especially for this release.
As you would expect the ballads are mostly guitar based with some excellent playing throughout but there are a few slower piano led numbers as well, real lighter in the air stuff.
Of Axel's own songs the rockier ballads are the most convincing, new track 'Where The Wild Waters Flow', and 'Glory Night' are both top class with a big sound and sweeping choruses whilst instrumental 'Haunted Castle Serenade' ably showcases Axels six string dexterity.
Cover version-wise it is a bit hit and miss, when I saw 'Hallelujah' on the track listing I feared the worst, but actually their version works well.
Unfortunately the same can't be said for the band's version of the Dio classic 'Holy Diver'. Axel was a friend of Ronnie Dio and included this as a tribute to the great man, but the acoustic reworking here falls flat, still, the heartfelt sentiment can't be questioned.
Not a classic album then and not the best starting point for the uninitiated, but a solid release for the ARP faithful.
***½
Review by David Wilson
---
| | |
| --- | --- |
| | Print this page in printer-friendly format |
| | |